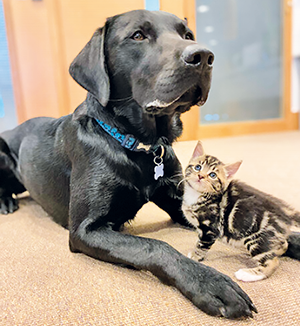 A former rescue dog has been melting hearts after taking a litter of kittens under HIS wing.
Unlikely father figure Bertie is a one-year-old Labrador who has spent weeks caring for seven motherless kittens taken to Battersea in need of urgent help.
The stray kittens were discovered on the side of a road when they were only two weeks old, with no mother in sight. At such a young age, they were unable to fend for themselves so were rushed to Battersea to be checked over by the expert clinic team. Once vets established the very hungry kittens were otherwise healthy, the charity's head nurse, Rachel, volunteered to take them home with her, where both she and her Battersea dog, Bertie, could keep a close eye on them.
"As a former Battersea resident himself, there's something particularly touching about seeing a rescue pet now helping to rescue other animals in need," she said.