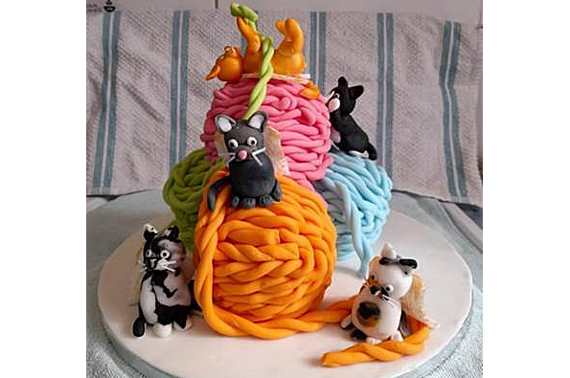 A cake showing cats playing with balls of fondant 'wool' has been selected as the top bake in a Cats Protection competition.
Bake Off's Kim-Joy selected the colourful creation from hundreds of entries from cat lovers in the charity's Pawsome Baking Challenge, which raises funds to help the charity care for and rehome unwanted cats.
Cat-owner Kim-Joy said: "It was a tough choice picking a winner but I have to say I've never seen a ball of wool cake before…It would bring a smile to anyone's face."
The delighted winner, Jay Urquhart-Pettifer, 41, from Coventry said: "I'm so glad Kim-Joy liked my ball of wool showstopper and it's given me extra confidence in my baking."
Kim-Joy also selected a top bake among juniors aged 16 and under, which was won by Isobel Davies, 16, from Croydon who designed cat-shaped cookies entirely made from meringue.
Both Jay and Isobel won a signed copy of Kim-Joy's Baking with Kim-Joy book while the competition raised more than £1,600 to help Cats Protection look after and rehome unwanted cats.