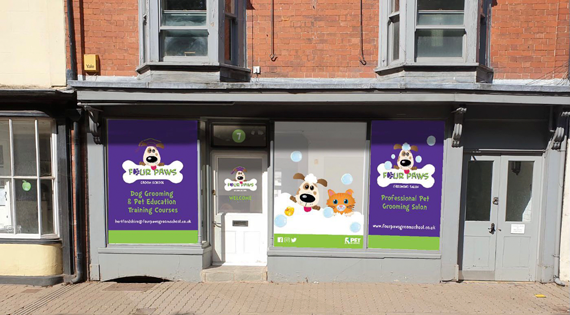 A new Four Paws Groom School has opened its doors, offering iPET Network further education courses.
The school, in Ledbury, Herefordshire, is on the site of a former solicitors in the market town, and will offer a range of Level 3 courses in dog grooming, as well as a qualification in Canine Emergency First, and the Level 4 Higher Professional Diploma in Dog Grooming, for qualified groomers who have been working in the industry for over a year.
All of the iPET Network qualifications are Ofqual regulated, and are delivered by industry professionals.
Dog grooming is a growth industry, and since the covid-19 pandemic puppy boom the demand for qualified groomers is stronger than ever.
Four Paws Groom School Herefordshire will be run by its director, Belinda Morris, who has worked in the dog grooming industry for more than 15 years.
INDEPENDENT
Starting her career in Southern Ireland for a small independent shop before moving back to the UK to work with large corporate companies and colleges. Belinda, who is originally from Herefordshire, went on to continue her learning and development by completing her Higher Diploma in Dog Grooming, becoming a member of The Guild of Master Groomers and gaining a Level 4 qualification.
Not satisfied with that she then continued to undertake teaching and assessing qualifications, which led her into full-time teaching.
Sarah Mackay and Fern Gresty, of iPET Network, which created the qualifications that will be taught at Four Paws Groom School Herefordshire, said: "Over the past seven years Belinda has bought her knowledge of working in small independent and corporate salons to teach dog grooming in colleges and private training facilities, helping others to achieve their goals, while continuing her own learning and development."
Belinda added: "I came into dog grooming through a career change and have never looked back.
"For me there is the most enjoyable profession to be in and I absolutely thrive on learning myself, passing this knowledge on to others, helping them move into the dog grooming profession and I have met some amazing people and other professionals along the way."