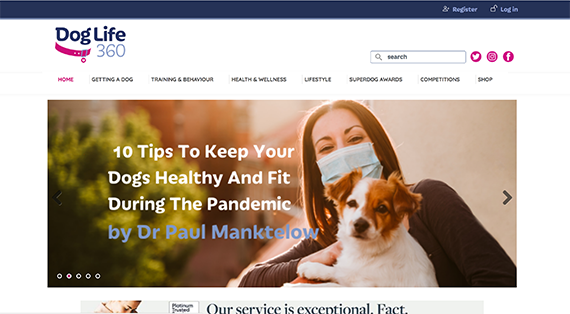 Touchpoint  Live Media has launched a new digital platform – DogLife360 – to help dog lovers find answers to all the questions.
For the past eight years, Touchpoint has provided opportunities to unite the dog-loving community through its events, DogFest, the Big Dog Walk Series and the National Pet Show. These events offer UK dog owners 'a place that welcomes their pets in a safe environment and gives dogs and their humans a day out to remember'. Now the event organisers have launched DogLife360, a new website 'packed with resources to connect with this loyal audience and provide support for the growing number of dog owners in the UK'.
It will include 'energetic, informative and entertaining' articles, written by a variety of different dog experts, such as vets, nutritionists and dog behaviourists. It will be the site to guide dog lovers through the entire process of dog guardianship, from choosing a puppy or rescue dog to training advice. The platform will also feature independent UK sellers.
DogLife360.co.uk aims to keep users up to date on UK dog days-out, celebrity guest interviews, regular blogs and exclusive competitions.
Nicole Cooper MD of Touchpoint Live Media says : "I am delighted with the launch of DogLife360, it's given us the opportunity to extend our portfolio of brands across 365 days of the year, providing informative content, advice, a one-stop shop and community hub for dog owners everywhere.