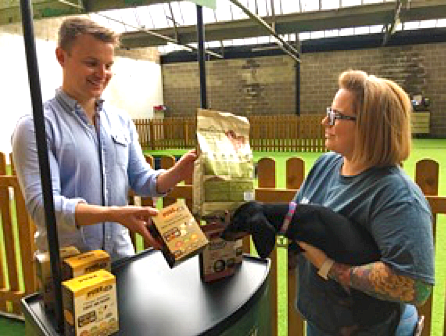 Online retailer PurePetFood.com gave dog lovers the chance to exchange 'highly processed' dry pet food for a 'much healthier alternative'.
The 'kibble amnesty', held at the Barkyard dog day care centre, in Halifax, West Yorkshire, saw local dogs being offered, free of charge, a range of products including 500g boxes of human-grade Pure Pet Food and 2kg of 'fresh, nutritious' meals.
Pure contains no grains and no artificial preservatives and is PETA approved, having been developed alongside nutritionists and vets in Yorkshire.
A spokesman said: "It's been our life's mission to make healthy food choices for pets easy and accessible and to spread the word about the benefits of wholesome, human-grade doggy diets.
"Highly processed, extruded kibble biscuits aren't the healthiest option no matter what the ingredients are, but their widespread consumption is forgivable given their prevalence in supermarkets…
"We've witnessed first-hand the incredible success pets have had from making the switch, which is why we opened our doors and provided the opportunity to forsake poor diets."