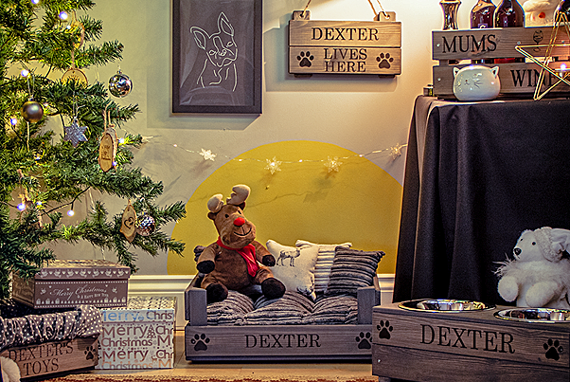 A manufacturer of personalised pet beds and feeders, which started out in a garden shed, has picked up a Most Promising New Start-Up Business Award.
QT Products, owned by Jacqueline Hart and Lee Whittaker, received the accolade at the Business Awards organised by East Staffordshire and South Derbyshire County Council.
"When it was announced we'd won the award we were over the moon," said Jacqueline, who likes to be called Jaq.
"It was an amazing experience and such an honour to be recognised. The event was incredible on its own and to win the award made it 10 times better."
THRIVING CONCERN
Jaq started the business making personalised wedding hampers in the garden shed as a hobby. But the past-time soon turned into a thriving concern, which included the manufacture of bespoke pet products.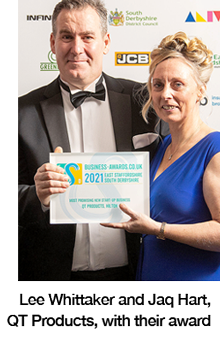 "We make pet beds and raised feeders that are customised to heights that suit the size of our customers' dogs," she added.
"We also make pet signs and personalised embroidered bone shape cushions. We have a home and garden range plus a retail range featuring the raised feeder and an advertising board with a business logo – these are very popular with dog salons and groomers.
"We manufacture the items in-house and can customise all items to the customers' requirements. We also personalise any items with any wording or logos, and we offer embroidery services."
Jaq and Lee, who owns a fishing bait company, first started selling the pet products through Facebook, before taking stalls at dog shows and fetes. With sales on social media growing rapidly the couple invested in a new website.
QT Products soon outgrew the garden shed and the business moved into a larger unit on an industrial estate. Staffing levels also increased to 10, including two apprentices.
"We moved into bigger premises during lockdown but have already outgrown them, so we are moving into an even larger unit and expanding our production, workforce and range of products," said Jaq.
At the awards QT Products was praised for its identification of an opportunity and development of a product/service, a successful delivery to market, and its strategy for expansion and further development.