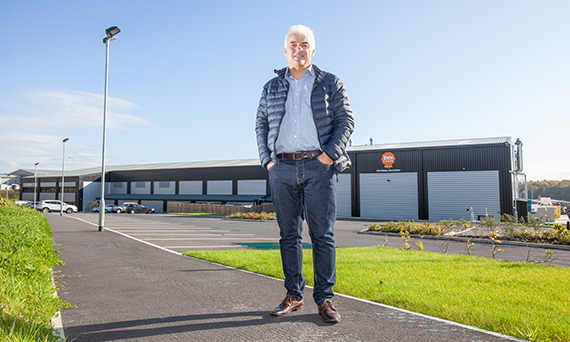 Tony Raeburn, CEO of Pets Choice – the manufacturer of household pet brands such as Webbox Naturals, Bob Martin and Felight – reveals how the nation's trend of buying covid companion animals has helped Webbox Naturals navigate a turbulent year. He looks back on 2020 and gives his predictions for what could be in store for the sector post-pandemic…
"We've always been a nation of pet lovers in the UK, but never has that been made more apparent than by the pet ownership boom we saw over lockdown.
"Half of all households are now home to a furry, feathered, slimy or scaly friend. They've become even more entwined with our family structures, as we've come to rely on them for the positive companionship and mental health benefits they bring.
"Our data has found a tenfold increase in demand for people looking to purchase a companion animal over lockdown, with online search volumes for dog and cat adoptions and purchases at an all-time high. The question the sector needs to ask itself this year is whether this boom will continue throughout 2021 and whether it will be sustainable in the long-term.
Millennials become the market leaders
"I think the recent ownership boom has really bolstered demand in the sector over the past year. At the start of 2020 and throughout 2019 we saw a trend towards high-end pet care as people looked to treat and pamper their pooches. Although this is still a driver for the wider sector, owners have become more cost-conscious, moving towards recognisable, quality brands that provide pet owners with real value for money.
"Although pennies might be tight for consumers this year, a Mintel investigation found over half of all UK pet owners would scrimp on spending on themselves rather than their pets. The data, which will no doubt be welcomed by the sector, shows this attitude of putting pets first is even stronger among millennials. As this age group was key in driving ownership this year, brands shifting their marketing focus away from this demographic do so at their peril.
"We predict this year will be a tale of two halves for the industry – brands that struggle or are set in their ways, refusing to adapt to the recent changing nature of pet-ownership, will lose out to those who change with the times.
Made in the UK
"Research shows the UK is among the top dozen exporters worldwide when it comes to pet food production. Although Brexit will create logistical challenges for exporters, I expect the sector won't see a great drop in trade over the next 12 months, compared to other industries. The European pet food market has always been very reliant on the UK; some estimates suggest 80% of the EU sector's raw materials come from here.
"I think the main market opportunity for manufacturers in 2021 will be back at home. The UK's safety standards for animal health and food are among the highest in the world, which gives customers at home real reassurance that they're doing right by their pet's needs. Consumers also want to buy more local products, moving towards brands that are made in the UK."
No nonsense
"With the growth of dairy/gluten/meat free products in supermarkets across the country, consumers are becoming increasingly health conscious when it comes to purchasing trends. It's no different in the pet-care sector. We've seen a real demand for customers moving 'back to basics', buying healthy, no-nonsense food for their pets.
"They want their pets to eat natural, wholesome ingredients without the jargon, and to have options to cater to any allergies or conditions, such as sensitive stomachs. Our Webbox Naturals Adult Chicken Wet Food for dogs is really transparent with its ingredients list and resulting benefits.
A turbulent 2020 for the sector?
"We've benefited from the growing demand for animals this year; we've hired new staff throughout the pandemic, avoided the need to furlough people and our manufacturing sites have remained open. Our larger customers, such as the 'Big Four' supermarkets, have seen bumper sales – leveraging their adeptness at manoeuvring business models, which has allowed them to thrive throughout the crisis.
"Local grocery retailers have benefitted from people working from home, but the same can't be said for independent pet stores we support, who have really struggled with the restrictions. Just like these retailers, we will adapt like any other business to the new normal next year, but we've certainly fared better than most in 2020 and we've got really high hopes for 2021.
What can the sector expect in 2021?
"We've seen a good deal of younger people enter the sector this year as they purchase pets to keep them company whilst working from home. As with other retail sector trends for millennials, I anticipate their passion for wellness, pampering and luxury will also be reflected on their pets.
"Even though we might be facing uncertainty in the economy this year, as collateral damage from the pandemic continues to ripple on, pets will still need feeding, looking after and grooming – all key areas likely to prop up the sector. We'll also want a bit of cheering up, so I think we'll see consumers wanting to continue to treat themselves and their pets, whether that's through snacks, accessories or treats.
"Market analysts are also pretty optimistic about the outlook domestically and globally too. Research from AMA is predicting 'modest but continued steady growth' in the pet sector with an anticipated market value of £7bn in the UK.
Looking ahead
"I think the pet industry will stabilise next year after a tumultuous 2020. With responsible pet ownership growing, services will likely perform well, but as trends for premium products and food will grow, we anticipate further growth areas for Webbox Naturals, Pets Choice and our other brands.
"Retailers should consider stocking new and exciting products to cater to this, for example, exploring vitamin supplements for pets, vegetarian options for dogs or stocking natural treats. Pets Choice's NPD, this year and next, fits perfectly into this growing market trend.
"Manufacturers and retailers will need to innovate, differentiate and adapt like never before to draw in this new boom of pet owners. But for those that do, 2020 could be the cat's pyjamas for those who can take advantage of Britain being a nation of pet lovers!"