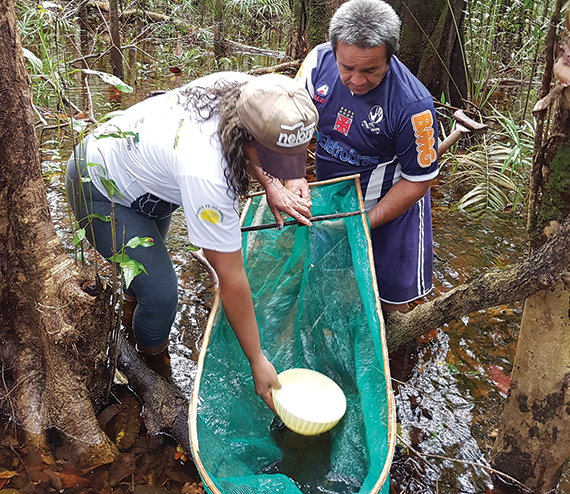 A new film exploring the artisanal fishing trade for the home aquarium industry in Brazil has been released on Vimeo.
Wild Caught: The Aquarium Fish Trade of the Amazon is the first full-length documentary to investigate the trade of tropical fish, the benefits it offers to rainforest conservation and the reasons why the industry in Brazil has been in decline.
The film, by Don McConnell, examines the aquarium fishery trade in the Rio Negro region of Brazil. This wild capture fishery has existed for more than 60 years in the state of Amazonas and has demonstrated it can play an important role in the protection of one the Earth's most important forest and aquatic ecosystems without depleting the populations of the fish. However, over the last 20 years, the industry has been in crisis and has faced numerous challenges.
These challenges include the captive breeding of Amazon fish species internationally, concerns about fish mortality, pressure from animal rights groups, increased bureaucratic hurdles and bio-piracy. Each of these issues is examined in depth in this 90-minute film, which features interviews with the world's leading scientists, researchers, exporters and importers as well as talking to the fishers themselves who describe their life and livelihood.
The Ornamental Aquatic Trade Association (OATA) is highlighting the film as a must-watch for anyone interested in the aquarium trade and fishkeeping generally, saying: "If you're interested in finding out more about the issues around wild-caught fish, then this film is for you. It's also suited to those interested in learning about how certain traditional industries in the Amazon can provide a living to local populations without the need for deforestation, contamination of the rivers or threatening the diversity and population of species in the wild."
Don McConnell is an independent filmmaker who specialises in stories about aquatic conservation and indigenous cultures. He grew up in Ireland and then worked in the USA as a freelancer director/
cinematographer for 20 years. His work has been seen on National Geographic Explorer, The Discovery Channel, PBS Nova, CNN and many other platforms. Don now lives in Amazonas, Brazil and is focused on productions about Amazon forest and river conservation and traditional sustainable industries.
The film is available to rent on Vimeo for less than £4 or can be bought to stream for under £12.
> Go to https://ornamentalfish.org/ for more information.