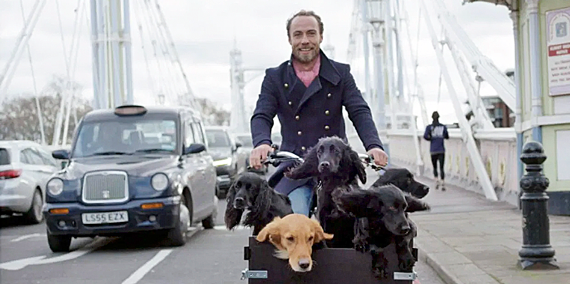 The Duchess of Cambridge's younger brother, James Middleton, has launched a new freeze-dried dog food in honour of his therapy dog Ella.
The 33-year-old entrepreneur owns five dogs but it is Ella, the pet that has seen him recover from mental ill-health, who has taken the spotlight for his latest venture.
James says on his new website: "Ella & Co is a happiness and wellbeing company for dogs. The idea was born out of my close bond with my therapy dog, Ella. I wanted to repay her, and my other amazing dogs, by becoming the best owner I can be."
He goes on to say that the first step in his journey was creating the 'perfect balanced diet' for his dogs: "I developed Ella & Co's freeze-dried raw food with nutritionists and industry experts to create a complete and balanced meal, specially designed for the benefit of our dogs."
FREEZE-DRIED KIBBLE
The food is a raw meat, fruit, veg and herbs mix that has been freeze-dried into kibble. It is sustainably packaged and sold via home delivery from the website.
James reveals in his Ella & Co blog that he began to suffer from depression after starting his greetings card business Boomf in 2013, and that he spent a year struggling with illness.
He said: "During this difficult time, my dogs saved me. They were my friends, companions, teachers and therapists.
"It's nearly impossible to fully calculate our pets' value. While we wouldn't think twice about the little things we do for ourselves – morning coffee, gym memberships, dinners out and spending money at the pub – we can forget about investing in our pets' long- term health and wellbeing.
"At Ella & Co, creating the most convenient, nutritionally-rich, ethical, and delicious freeze-dried raw dog food available in the UK is our first, small step towards a dog food revolution."