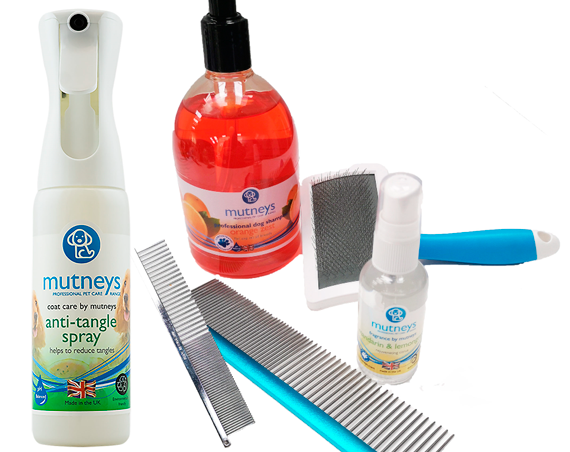 Mutneys Professional Pet Care has launched a campaign to help pet owners keep their dogs' coats healthy during the coronavirus lockdown.
It has developed a series of free easy guides to home grooming, which are available to professional dog groomers to pass on to their clients while grooming salons are closed during the pandemic restrictions.
The Mutneys team has also used its 25 years' experience in the industry to put together a range of home grooming kits specifically developed for different types of coats, to help dog owners maintain a basic grooming regime during lockdown.
The company's joint founder and director, Stephanie Roberts, explained that keeping a dog well groomed was important for its health and was not just about maintaining appearance.
"There are important reasons for dog owners to keep their dogs well groomed while the professional groomers may be unable to operate through the lockdown. It is an important part of a pet's healthcare routine," she said.
She explained that brushing ventilated the coat, removed old and damaged hair, reduced loose hair which could become tangled and matted, encouraged healthy blood circulation and kept down the level of grease helping to keep the skin healthy.
It also gives dog owners the chance to bond with their pets and check them for any new lumps, bumps and scratches that could need further attention.
Stephanie added that the free guides also gave professional dog groomers a way of keeping in touch with their valued customers during the lockdown.
"We've been in the industry for 25 years and know many of the professional dog groomers personally. So we wanted to do everything we could to help them maintain contact with their customers as well as ensuring that their canine clients remained healthy while the grooming salons and businesses were closed," she said..
Mutneys' home dog grooming pack includes everything dog owners need to keep on top of grooming their dog's coat. It is available for small medium and large size breeds based on the company's experience of the challenges of grooming different sized dogs.
Mutneys has also developed a more intensive home dog grooming kit for detangling which is available in basic and deluxe. The basic kit includes a brush, comb and anti-tangle spray while the deluxe pack adds in a shampoo and fragrance spray.
The free grooming guides include overall tips plus specifics for different types of coat – wire, silky/long, double, smooth and curly/wool. They are available on the Mutneys' Facebook page @themutneysdog.