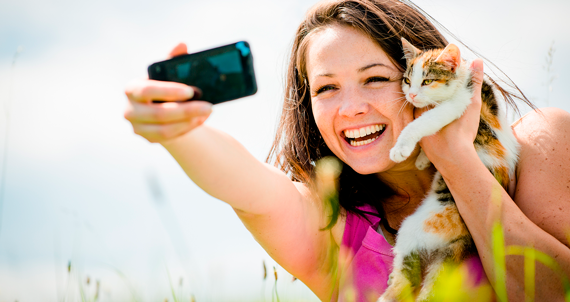 One third of pet owners prefer their pet to their partner according to new research from Asda Money.
In fact, one in five owners say that their pet is a better listener than anyone they know and a quarter of women miss their pet more than their partner when they are away.
These are just some of the findings of a survey of 2,000 UK pet parents, which was conducted by Asda Money to celebrate National Pet Month (April 1 -May 3).
There were also significant regional variations, with the number of people preferring their pet over their partner rising to around 37% in Greater London and Wales.
One third of people also confessed to seeking comfort from their pets instead of their partners when they feel sad. This was most prevalent among women in relationships, with 38% seeking comfort from their cat or dog when they are feeling down.
Good listening is often considered an important factor in a relationship. In the study it was discovered that one in five pet owners state that their beloved cat or dog is a better listener than anyone they know.
When it comes to jealousy in a relationship, nearly one third (31%) said that their partner is envious of the attention they give their pet.
Alistair Ball, head of insurance at Asda Money, said: "Pets are always there for us during the ups and downs and their owners rightly take comfort in the affection they show. Our pets provide us with company, emotional support and loyalty."
Wajeeha Amin, psychotherapist and relationship coach, also commented: "When was the last time you listened to your partner? Really listened? If you think about it, most of us listen to respond not to understand.
"Sometimes all we need is someone to just listen to us, and I guess that's what our pet is providing us with – a space to be heard with no interruptions, solutions, quick fixes, reprimands or accusations."