The global shipping crisis that manifested itself throughout the latter part of 2020 is proving to be an 'increasingly alarming situation' for a vast number of suppliers in the aquarium and water gardening industry.
That's the view of Mark Winter, managing director of Aqua Pacific UK, home to leading aquatic brand Aqua One.
"Shipping rates have gone from 3,000 US dollars for a 40ft container in October 2020, to 16,000 US dollars in June 2021," said Mark. "Those are ex-China rates but the percentage increases are similar from all over the world. This is also affecting production costs on products made in Europe, as imported components and raw materials are being pushed up to record price levels.
"As well as the cost issues, suppliers are facing problems over availability of space on container ships. Global demand has far outstretched available space on all shipping lines fleets. We ourselves have probably 40-50 orders from the past four to five months we still can't ship because we can't get space or equipment – a physical container, for example – to put the stock in.
CRISIS
"Covid-19 has been the driver behind the crisis, initially because of PPE requirements. In many cases thousands of containers did not return as usual into the system, leading to Chinese ports actually running out of 40ft containers at one point towards the end of 2020.
"Recent new covid outbreaks in China ports has reduced their capacity and caused even more congestion, which could well see freight rates increase further."
Mark admits that the biggest problem facing his business is sea freight costs.
"From my experience the average value of a 40ft container to us is around $15,000 in value. When shipping was $3,000 – 20% of the stock value. Now the shipping is as expensive as the stock itself.
"Some suppliers in the trade have taken the decision it is simply not worth importing stock at the moment. Those that do continue will have to sell their products at far more expensive prices than before, because they are costing more.
"Even road transport costs across Europe have increased significantly over the past year and here you have the added problem of new customs declarations. This has led to many transport networks significantly increasing costs and even some European brands deciding the UK is too expensive or too complicated to trade with."
So what needs to happen to alleviate any problems that are occurring at the moment?
Mark said: "A significant decrease in global demand, or more ships, although that is not something that can be fixed in 12 months – it may take many years.
"As a result companies need to rethink their logistics. For example, we have the ability to consolidate orders from multiple suppliers at one point. Our big glass tanks are being considered as outer cartons in which to ship smaller product thus pushing up the value of the container and reducing the need for at least one other container. However, that is not always an option for everyone."
There is one bright spot on the horizon for the aquatic and water garden industry and that is the return of the AQUA trade exhibition at Telford International Centre in October.
WELCOME
"AQUA 2021 is an ideal platform to seek out new products, new suppliers or simply touch base with your existing suppliers," commented Mark.
"The market has changed during the pandemic that is for sure. There has been a very welcome boost to the hobby, probably due to more people spending a lot more time at home.
"As a result the home improvement market has seen major growth globally, with some predictions citing 10-12% overall increase in the market value. Fishkeeping can play a big part in that home improvement scene.
"Now, more than ever, there is a need for retailers to freshen up their offering to keep customers coming back again and again. For the water gardening and aquatics industry there is no better place than AQUA Telford to find the products that can help them achieve their goals."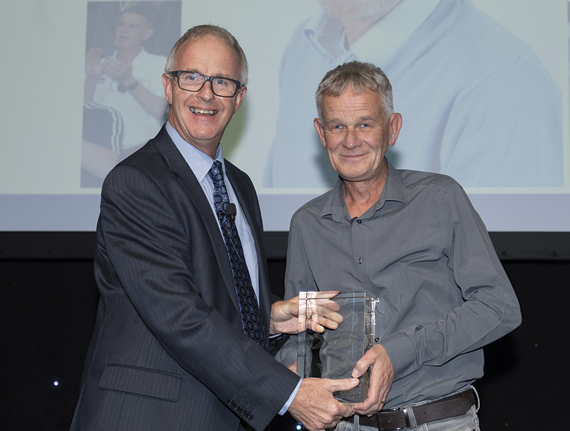 Mark Winter (right) receives an OATA Lifetime Achievement Award from Dr David Pool during AQUA 2019