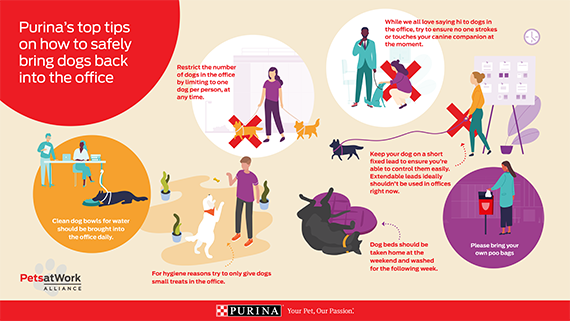 Purina is reminding organisations of 'the huge benefits to mental wellbeing that workers can get from having a dog around'.
It is calling on employers not to forget about our canine companions as we gradually return to the workplace and has some practical help and advice on hand for those considering how to safely include dogs as we all start to get back to a new normal.
Purina's research shows that 91% of Brits find having a dog around them a calming influence, while 85% believe working in a pet-friendly environment has a positive impact on their wellbeing.
Psychologist Jo Hemmings said: "It's likely many employees will be facing increased anxiety as they adapt to the change in routine of commuting and working in an office again.
"Many dog owners will have become especially close to their pets during lockdown, which will have had a beneficial effect on both pets and owners, giving them an even more secure relationship during a very difficult time.
CRITICAL
"Finding new and different ways to improve how people feel at work post-covid is critical -with many studies showing the positive effects on well-being and stress relief that having their dog with them at work can bring."
Before the pandemic, one in five Brits could take their dog to work. As those businesses re-open, not only are they faced with the challenge of keeping their staff socially-distanced, but many will also be considering the return of our canine friends. Additionally, given the increase in dog ownership over lockdown, many new dog-owners will be looking to their employers to provide a dog-friendly office environment.
According to recent media reports, half of Brits are worried about leaving their pets at home now offices are reopening.
Purina believes this is a crucial time to remind employers of the many benefits of welcoming dogs at work and is calling for pets not to be left out of organisations return to work planning.
DAUNTED
Calum Macrae, regional director Purina UK & Ireland, said: "It's understandable that employers might feel daunted about welcoming dogs in the office post-lockdown but, given the overwhelming positive impact that dogs at work can have on employees and the potential for separation anxiety to become a real issue in pet owning households, we want to encourage businesses to seriously consider dogs as part of their return to work plans.
"Pet owners have repeatedly talked about the many benefits of spending more time with their pets over the last six months – we'd encourage as many employers as possible to try to bring these benefits back into the workplace, along with their employees. We have updated our guidance and have experts on hand to help as many workplaces as possible to either stay, or become, dog friendly in these continuingly challenging times."
Purina has been piloting bringing dogs back into its Gatwick office on a limited basis since July and is sharing practical hints and tips to help other organisations benefit from what it has learnt including:
> Employers to limit owners to one dog in the office each
> Employers to limit petting from people who are not the dog owner
> Owners to keep dogs on short leads (not extendable) to prevent straying
> Owners to bring in clean water bowls each day for their dogs to drink from
> Owners to only share small treats (not full meals) with their dogs when in the office
> Owners to take dog beds home for washing once a week.