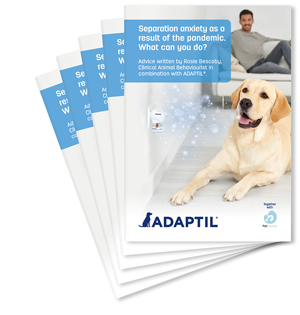 Ceva Animal Health, manufacturer of behavioural product Adaptil, has launched a new leaflet on separation anxiety to help ease dogs out of lockdown.
The leaflet, 'Separation anxiety as a result of the pandemic. What can you do?', was written in collaboration with clinical animal behaviourist Rosie Bescoby and is aimed at dog owners whose pets are struggling to adjust to the 'new normal'.
It features an overview of separation anxiety, including the signs to look out for and how to tackle it, together with training tips to help adult dogs and preventative advice for puppies. The leaflet also includes advice on the dog fear ladder, which demonstrates the different levels of fear a dog may exhibit resulting in more extreme reactions being displayed, and information on the Acdaptil range of products that help support dogs throughout their lives.
The leaflet is available as both a printed and online version to enable retailers to distribute it to their customers in a format of their choice.
"Lockdowns have been a positive experience for many of our dogs as they are social animals and love being with their owners," said Abigail King, senior behaviour product manager at Ceva. "However, with the 2021 PFMA annual pet population report confirming that 3.2 million households in the UK have acquired a pet since the start of the pandemic, some pet owners have never left their dogs home alone, so it's going to be a totally new experience which some pets may struggle with.
"Our new separation anxiety leaflet will help support both pets and owners as they adjust to the new normal."