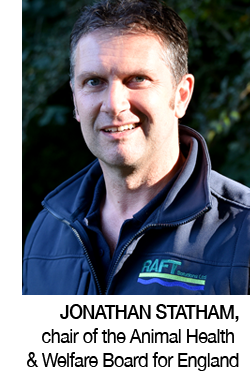 Professor Jonathan Statham has been appointed chair of the Animal Health and Welfare Board for England.
He will start the role on November 1, replacing the current chair, Michael Seals, who is standing down after 10 years in the role.
Jonathan said: "As a large animal vet by profession, high animal health and welfare is close to my heart and something I know is very important to industry and wider society.
"It is a crucial point in time for the industry and for us as a board, with lots of key policies coming forward which bring along many challenges."
Biosecurity Minister Lord Benyon said: "With extensive veterinary and farming experience, Jonathan will play a key role in improving the health and welfare of kept animals in England over the coming years.
"We have bold plans to improve animal health and welfare, as outlined in our recently-published Action Plan for Animal Welfare, and I look forward to working closely with Jonathan and the AHWBE to deliver these ambitions."