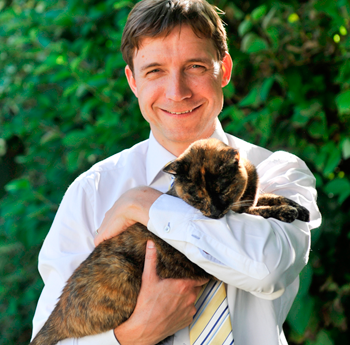 Cats Protection's chief executive, James Yeates, is leaving the charity after three years to start a new role as CEO of the World Federation for Animals.
James, who was formerly CEO of the RSPCA, has been at the UK's leading cat welfare charity since August 2018. During that time, he has boosted and articulated the charity's ambition for cats, saw the organisation through covid safely and sustainably, helped develop changes to its governance and set out a new strategy to revitalise community volunteering, strengthen the charity and help millions more cats.
James said: "These three years have allowed me to meet so many truly wonderful volunteers, employees and supporters and to see so much amazing work for cats. We are united in our desire to see cats happy and healthy and Cats Protection is ever more the charity to achieve that vision. An enormous and heartfelt thank you to everyone for all their effort, passion and support.
"I am incredibly excited at the prospect of leading the World Federation for Animals, which is the most important coalition for animals in a generation. Humans and animals face the biggest challenges we have ever met. We need to tackle these challenges with selfless empathy, collaborative passion and deep compassion."
Linda Upson, Cats Protection's chair, said: "James's new role, advocating for animal welfare on the international stage, is an incredible opportunity for him and very well deserved.
"It is a loss for Cats Protection but it comes at a point where we have agreed our new 10-year strategy, which will see us build on our work and extend our reach to help millions more cats in the future.
"We are all very grateful to him for everything that he has achieved for so many cats. His knowledge and experience have made Cats Protection a much more dynamic organisation. We wish him every success in this very important organisation."
James takes up his new role in October.