Mark Hutchinson has been promoted to general manager of specialist pet and garden trade wholesaler Glenkrag.
Mark joined the Northern Ireland-based company in 1988 and has held general sales, key account development, purchasing and management roles.
"Mark's background in retail and wholesale business gives him an overall understanding of how to push forward new ideas and initiatives, continuing to improve the company to reach new heights," a spokesman said.
He will be assisted with senior management support from Martin Smyth, Chris Lindsay and now Gary McMahon, who has been promoted into the position of sales and group account manager.
Gary joined Glenkrag's telephone sales team in 1995 and has advanced through various roles.
"Gary has enthusiasm and energy in abundance and we've no doubt he will bring many new ideas to fruition in the coming months and years," the spokesman continued.
"Jack McCready will continue as managing director while sharing his immense knowledge and experience in a pivotal sector within our industry and one that's had a growth surge… and the reason for Glenkrag's humble beginnings in 1980 – tropical and coldwater fish."
Starting as a two-man business in a home garage more than 40 years ago to become one of the largest private employers in the area today, Glenkrag says it is 'proud to have a team of 80 dedicated colleagues cementing our position as market leading wholesaler'.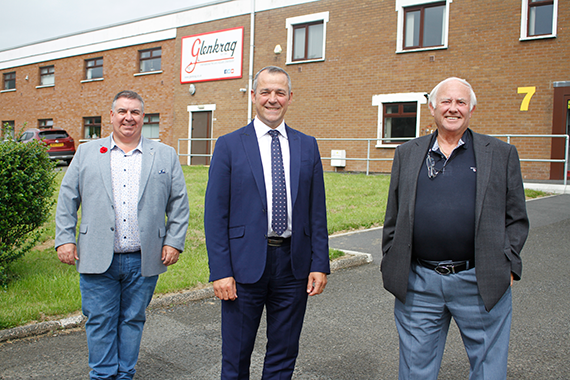 (L-R) Mark Hutchinson (general manager), Gary McMahon (sales and group account manager) and Jack McCready (managing director)