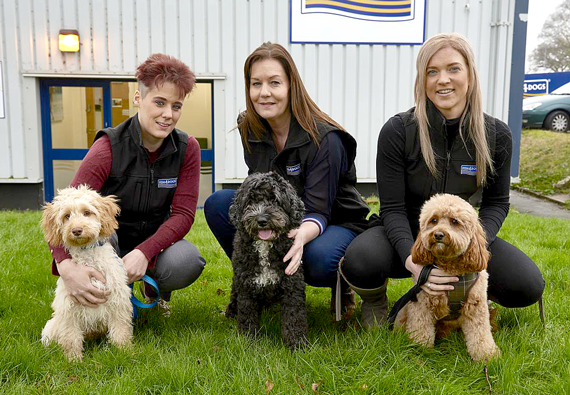 (L-R) Kirsty Ashmead, Katy Farmer and Harriet Cook
Three is a magic number at Fish4Dogs, which is welcoming a trio of appointments with an eclectic range of experience from engineering and manufacturing to zookeeping and pet retail.
Kirsty Ashmead, Harriet Cook and Katy Farmer will join the customer services and marketing teams.
Kirsty has experienced the power of Fish4Dogs first hand. In one of her previously roles as a carnivore keeper for West Midlands Safari Park, she found the lure of Fish4Dogs Mousse would beckon the big cats for bedtime.
"In the past, I used the mousse for getting naughty lions in at night," said Kirsty. "So I am delighted to be joining Fish4Dogs which has a fantastic range of products all naturally derived from fish which has amazing health benefits for animals."
Kirsty also has retail experience within the pet sector having worked at Pets at Home. She joins the customer services team, responding to calls and emails, processing orders and dealing with customer enquiries on the phone and on social platforms.
Joining her is Harriet, whose experience in business administration, marketing communications and customer service has extended across a range of sectors from construction and engineering to bathroom and plumbing.
As a competitive horse rider and owner of Adarah, a tri-coloured warmblood mare, she has a passion for animals and their health and well-being. Harriet also has a 12-week-old grey kitten called Oscar. "It's true to say that I probably love animals more than I do humans," she admits.
Katy joins the marketing team as marketing assistant with experience in international marketing. She previously worked as marketing co-ordinator for a global aluminum extrusion company which operated in 40 countries. During 17 years with the company, she worked across seven sites in the UK undertaking a full-range of marketing activities.
She is looking forward to joining a completely new and exciting industry and owns two cockapoos – Dash, aged six, and bundle of fluff, Digby, who is just 16 weeks.
Graham Smith, CEO of Fish4Dogs, said: "We are privilaged to have three people join the company with such extensive skills and experience. Our Fish4Dogs family is wonderfully diverse and full of people who bring knowledge and talents from different areas of business and walks of life."