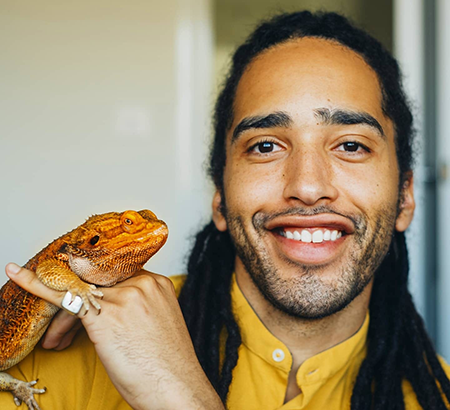 Exotic animal vet and star of CBBC's 'The Pets Factor', Fabian Rivers has taken top spot in the BVA Young Vet of the Year Award 2020 sponsored by Zoetis.
The organisers said the small animal and exotics vet 'wowed judges with his ongoing proactive contributions to the veterinary profession and his passion for raising awareness around exotic animal care'.
In a virtual ceremony on Friday night (November 13), as part of Vet Show Autumn Series, he was selected from three finalists.
Fabian, who is both a practising vet and the latest member of the team on 'The Pets Factor', is also a recent graduate member of BVA Council. In his spare time, he is a writer. He has published articles on a variety of topical issues such as ethnicity and race, diversity within the profession, feminism, Halal slaughter and reptile health and welfare.
PASSION
The judges credited him for 'his passion for communicating the complex welfare needs of non-traditional companion animals to the public'.
BVA president James Russell said: "Fabian has made a significant impact within the profession and beyond. The broad reach of his work – on issues that affect our profession and animal welfare – has made a national impact and promoted our profession to new audiences of all ages.
"During a particularly challenging year for all of us, Fabian has shown immense leadership and he is a truly deserving winner of the BVA Young Vet Award 2020."