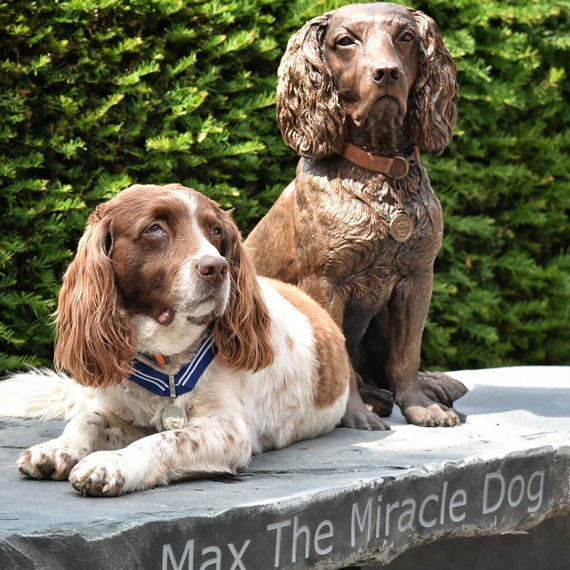 An estimated 500 people and 400 dogs turned Keswick into a sea of orange on as they attended a charity birthday walk in honour of Cumbria's most famous canine, Max the Miracle Dog, who turned 14 this month.
The unprecedented turnout helped to raise more than £30,000 for vet charity PDSA, which treats the sick and injured pets of people in need, and is a charity close to Max and his owner Kerry Irving's heart.
"Max has changed so many lives so it seemed fitting to enjoy his 14th birthday walk with as many people and their dogs as possible," Kerry said. "We asked everyone to wear orange, which is Max's colour, and I was blown away by the response. And to top it off by raising so much money for PDSA, a charity that helps thousands of owners and their pets every day, is wonderful."
BIRTHDAY BUFFET
The walk went through Crow Park near Derwentwater, where many of the dogs took a quick dip to cool off, and on into Hope Park, where people got to see the statue of Max that was recently erected. The walkers then returned to the old Pencil Factory building, provided free of charge by Keswick Ministries. All the dogs were then treated to a birthday buffet, courtesy of pet food and treats manufacturer Pooch & Mutt.
English springer spaniel Max was adopted by Kerry back in 2008. Having been seriously injured in a traffic collision two years earlier, Kerry was suffering from chronic pain, unable to walk and was diagnosed with severe depression. A chance encounter brought Max into his life and nothing has been the same since. Kerry credits Max with saving his life, and photos of Max out on his walks quickly made him a social media star. Max went on to make public appearances, charity walks and school visits, meeting and helping more than 10,000 people and raising around £300,000 for charities, including PDSA. He was even invited to Kensington Palace and met the Duke and Duchess of Cambridge!
Max was the first ever pet to receive a PDSA Order of Merit since its inception in 2014.