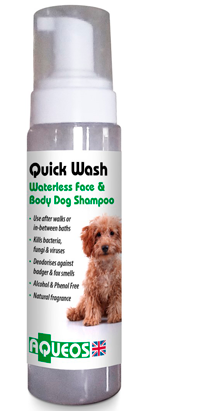 Aqueos has launched Quick Wash, a new way of freshening up a dog without water.
Quick Wash is a foam that is applied to a dog's coat or face and then towel dried.
The Wilshire-based company is a supplier of alcohol- and bleach-free disinfectants with low levels of active ingredients, first-aid and grooming products for horses and dogs.
Founder Tracy Richards said: "Quick Wash is the latest product to be added to our range of anti-bacterial dog shampoos. It is ideal to clean or freshen up in-between baths or any other situations such as muddy walks where water is unavailable. It will also be useful for dogs who just do not enjoy bathing, for people who may find it difficult to lift their dog into the bath or for use in the winter months."