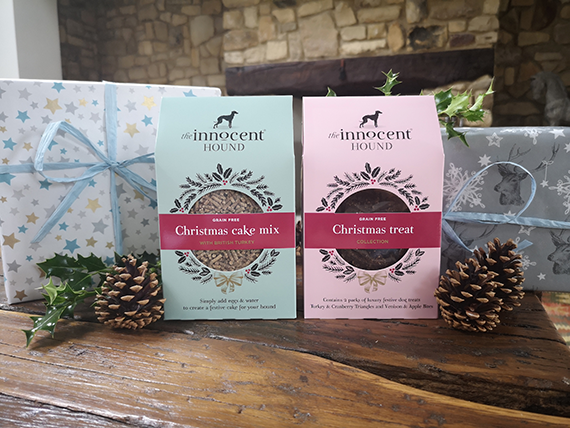 Pet treat company The Innocent Pet is taking orders for its Christmas treat range, including grain-free Christmas Cake Mix and Christmas Treat Collection.
Founder Chloe Heaton said: "We're focusing on what matters this Christmas: bringing families together to make memories – and that includes our hounds."
The two treat products focus on festive flavours, both using turkey and cranberries within their recipes. The easy-to-make Christmas Cake Mix combines air-dried British turkey and cranberries with a grain-free flour blend to produce a dog-friendly bake. The Yorkshire company says the DIY kit has been 'hugely successful', both as a Christmas mix and also as an award-winning Birthday Cake Mix.
Chloe said: "By bringing back our popular Christmas Cake Mix, it's a gift that offers something for everyone. Adults and children can get involved together by baking the mix for their much-loved pets and adding their own tasty decorations."
TREAT COLLECTION
The second exclusive treat made by the company is their Christmas Treat Collection, containing two pouches of flavours – Turkey & Cranberry Triangles and Venison & Apple Bites.
The luxury treat products are available to retailers for the festive period, with pre-orders now being taken. Both products are packed into recyclable packaging.
RRP across both products is £10.
The Innocent Pet is a family-run business, based in Thorp Arch, West Yorkshire and run by managing director Chloe and her husband, Justin. It was founded in 2013 and launched its first air-dried complete food range for dogs, last year, winning Best New Dog Food Product at PATS. Since then, the company has also launched its first air-dried complete cat food range.