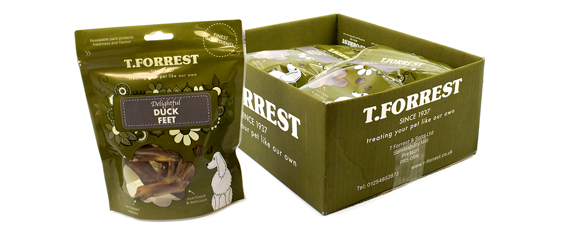 T.Forrest has introduced new retail packaging as part of its rebranding.
The new resealable pouches are 100% recyclable and will be offered across the entire range of T.Forrest natural pet treats.
Sales director Dan Wallbank said: "This is the final piece of our rebranding exercise, bringing all our products and ranges under one T.Forrest brand.
"Historically, we have supplied bulk products to sell as a 'pick and mix', however we have been inundated with requests for a retail offer so customers can display the T.Forrest brand in their retail space.
"The new design is a true reflection of us as a brand, our rich family history and the natural essence of our products. The new pouches mean that retailers can diversify their natural treat range, giving their customers more choice and convenience.
"During the pandemic we have seen a rise in customers developing their e-commerce channels and these packs are a convenient way to offer the T.Forrest natural range within their online stores."
The new format will be available across the whole range and will be added to the T.Forrest trade area from September onwards.