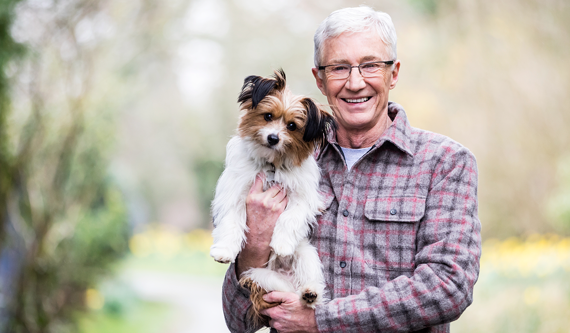 Paul O'Grady's No Nasties dog food, a range of 'complete and affordable' dog foods, is launching into more than 400 B&M stores nationwide with a 2kg complete dog food for puppies.
The new product, made without any added artificial colours, flavours or preservatives, is available in rich in chicken flavour, suitable for puppies aged between six weeks to one year of age.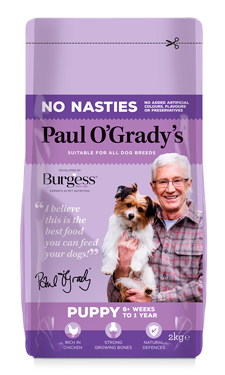 Paul O'Grady said: "Puppies have very particular dietary needs as they grow, so I've worked with the experts at Burgess Pet Care to rustle up something delicious that's been developed just for them. My new No Nasties Puppy Complete food is rich in chicken and is packed with all the good stuff that puppies need to give them the best possible start with none of the nasties."
The partnership between family-owned business Burgess Pet Care and Paul O'Grady started in 2018, driven by a shared desire to create 'a great value dog food, made with natural ingredients that dog owners can always trust'.
SHARED PASSION
The comic and TV presenter visited the Burgess pet food mills in Yorkshire, spoke with the pet nutrition experts there and looked at formulas with Burgess Pet Care's head vet, Dr Suzanne Moyes.
The company said it was 'this shared passion for important nutrition as well as the needs and welfare of pets' that the Paul O'Grady's dog food range was born, initially comprising five different recipes and a variety of pack sizes.
Nicole Fallon, senior brand manager at Burgess, said: "We're absolutely delighted to be working with Paul O'Grady, who recognises the important role that nutrition plays in supporting the health and wellbeing of pets. Paul O'Grady's dog food has been a huge hit with customers so far, picking up rave reviews from pet owners across the UK and beyond. With the full range now stocked in over 400 B&M stores across the UK, dog owners can easily access a quality pet food that they can trust at an accessible price point."