BSB Products has introduced three new Carnilove dog products to the market.
True Fresh dog food is a fresh meat kibble, True Fresh Raw Freeze Dried Snacks are made from 100% human grade ingredients, and Meat Jerky Snacks contain 90% meat. All three products are grain- and potato-free.
True Fresh dog food is made using a new processing method that enables the kibble to be made from fresh meat, with a 60% fresh meat content and the remainder made up from vegetables, fruits, herbs and superfoods.
The product is available in three recipes – Fresh Fish with Chickpeas & Apples, Fresh Beef with Peas & Pumpkin and Fresh Turkey with Red Lentils & Lemna. Suggested retail price per 1.4kg bag starts at £13.95.
Carnilove True Fresh Raw Freeze Dried Snacks are made from fresh meat and 100% human grade ingredients and come in two flavours – Rabbit with Pumpkin, and Duck with Red Fruits. The SRP for a 40g bag of is £4.95.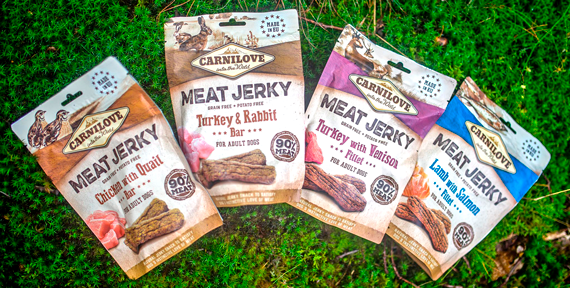 The third new line is Carnilove Meat Jerky. Made from 90% fresh meat, the jerky comes in four fillet styles: Turkey with Venison Fillet; Duck with Herring Fillet; Lamb with Salmon Fillet; and Beef & Beef Muscle Fillet.
Four bar flavours are also available – Turkey & Rabbit; Chicken with Pheasant; Chicken & Wild Boar; and Chicken with Quail. The SRP for a 100g bar or fillet of Carnilove Meat Jerky is £3.95.
Colin Rodger, Managing Director of BSB products, says: "Dog owners are increasingly turning away from conventional dry kibble and choosing to feed raw or alternative dry foods.
"True Fresh dog food offers something entirely different from the market, thanks to the innovative processing methods that delivers entirely fresh meat in a handy form. Both the True Fresh range and the new Meat Jerky Snacks meet owner demand for high quality foods that contain superior ingredients."
Carnilove dog and cat foods are exclusively imported and distributed in the UK by BSB Products.