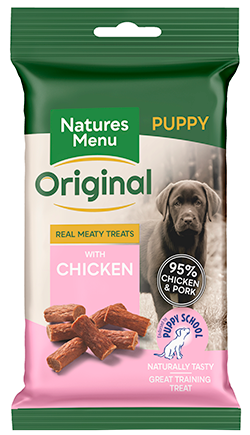 Natures Menu has extended its Real Meaty Treats range for adult dogs with a product specifically suitable for puppies.
The treats – endorsed by training network Puppy School – follow the same meaty and sausage format, but now come in smaller pieces that are more appropriate for puppies' smaller mouths.
The treats launch comes after the recent sharp rise in puppy ownership and Natures Menu says it answers the subsequent consumer demand for treats designed for reward-based training.
The natural, meaty recipe will come in a chicken variety, which is made without grain and will contain no artificial flavours or colours.
Melanie Sainsbury, veterinary education manager at Natures Menu, said: "With puppy ownership now higher than ever, pet owners can rest assured that they're providing the new addition to their family with the very best nutritional food.
HUMAN-GRADE
"Whether the Real Meaty Treats are used for a simple snack or as the treat of choice for reward-based training, the conveniently-shaped products have been carefully crafted with puppies in mind."
Made with high-quality, human grade, nutrient-rich ingredients, the Real Meaty Treats for Puppies range come in 60g bags, launching in stores and online from Yesterday (February 22) and retailing at £2.19.
The launch will be further supported by featuring in Natures Menu's Puppy Booklet, aimed to raise awareness and improve consumer knowledge on raw diets, as well as also featuring in a new puppy venture launching later this year.
Natures Menu specialises in raw and natural dog and cat food made with fully traceable quality meats and fish, blended vegetables, fruits and healthy carbohydrates – and uses British suppliers and ethical product sources wherever possible.