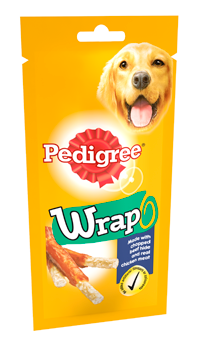 Mars Petcare has expanded its bonding Care & Treats range in the 'meaty' sub-segment with the launch of the Pedigree Wrap.
With the 'meaty' segment in 32% value growth in 2018, Pedigree says it wants to offer consumers what they want: 'a trusted brand, and a safe and enjoyable bonding treat'.
The wrap – launched yesterday – is made with 40% real chicken and chopped beef rawhide, with no added artificial flavours or colourants.
Carmen De Vos, Pedigree senior brand manager dog care & treats, said: "As our relationship with our pets becomes more emotional, owners want to have more special moments of bonding and connection. Our new product, Pedigree Wrap, gives dogs a differentiated experience that starts with an irresistibly chewy chicken wrap, followed by a deliciously munchy stick."
Pedigree Wrap is available across the UK market, with an RRP of £2.50 –  although pricing is at the sole discretion of the retailer.
Pedigree Care & Treats will continue to be supported by marketing campaigns throughout 2019.