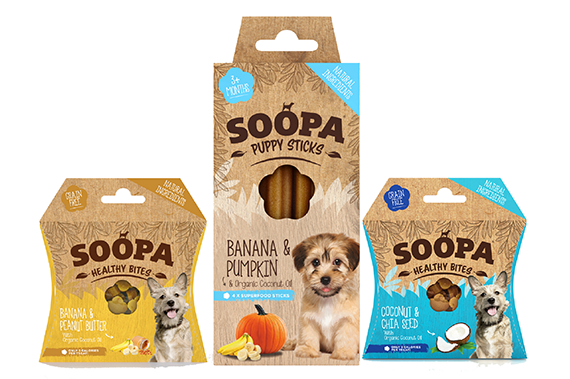 Award-winning Soopa has launched a new Puppy Dental Stick and expanded its Healthy Bites range.
Owner Barbara Hanly said: "After a 'fruitless' search for healthy treats for my own dog, Lily, I realised that most dog treats seem to be meat-based and full of artificial ingredients and other nasties."
Soopa was among the first to market with plant-based treats and has gone from strength to strength since 2016, recording double-digit growth in the UK market and around the world.
Now Barbara says she is proud to announce expansion of the Soopa product portfolio.
Banana & Pumpkin Puppy Dental Sticks are a hypoallergenic, grain-free treat for dogs that love to chew. They are suitable for pups over three months old and are low-fat and easily digestible.
In addition, Soopa has expanded its healthy training bites range with two new flavours: Banana & Peanut Butter and Coconut & Chia Seed. They are also grain free, hypoallergenic and made from natural human grade ingredients. They come in a resealable pillow pouch for use on the go.
All Soopa products – Dental Sticks, Healthy Training Bites and All Natural Chews – are 100% plant based, hypoallergenic, grain/wheat free, low fat, low calorie and presented in 100% recycled packaging.