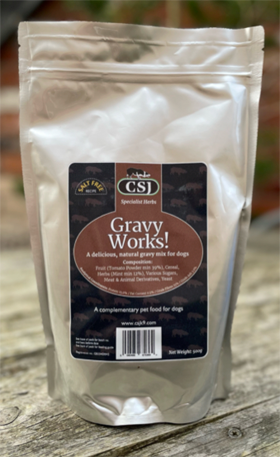 As thoughts turn to Christmas, CSJ is making sure pets are given their own festive treat with its gravy for dogs.
Many owners like to make their pets' day exceptional with something special in their bowl and CSJ's Gravy Works! does exactly that…in a healthy way.
With its combination of powdered fruit (including tomato), herbs (including mint) and meat, Gravy Works! is simply mixed with warm water to make a thick gravy.
Gravy Works! is produced in the UK and now comes in a foil pack of approximately 40 servings.
Gravy Works! isn't just for Christmas. One customer told CSJ that during hot summer months she started mixing up the gravy and then freezing it in little blocs, resulting in a brilliant cooling and tasty ice lolly.