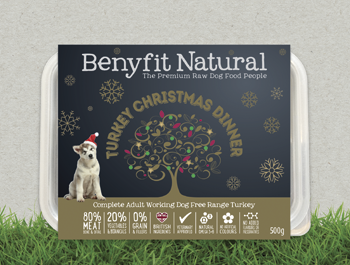 Benyfit Natural has introduced a raw Christmas dinner for dogs.
The complete meal, now available to buy direct from Benyfit Natural, is made up of human-grade British ingredients including 80% turkey crown, bone and offal, as well as vegetables including parsnips, sprouts, carrots, broccoli and cranberries, plus flax seed oil, kelp and herbs – all presented in festive packaging.
Greg Van Praagh, lead UK operations & frozen R&D, Benyfit Natural, said: "We're all aware that dogs enjoy being a part of the Christmas festivities but it's also easy for them to eat poorly at this time of year where households tend to be naturally more relaxed with what they eat.
"We know that by providing our customers with a festive meal for their dogs that we're not only giving them something convenient and fun, but also appropriate. Everyone can relax in the knowledge that they're feeding their dog a nutritionally-balanced and delicious festive feast."
The packaging is 100% recyclable and made from 100% recycled material.
Benyfit Natural's Turkey Christmas Dinner has an RRP of £2.75.