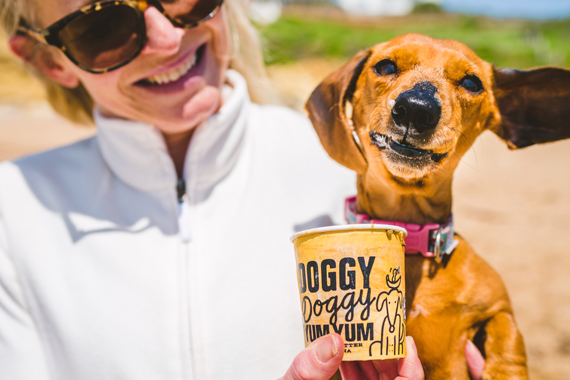 Dorset-based artisan ice-cream maker Baboo Gelato has secured new distributors for its organic ice cream for dogs, Doggy Doggy Yum Yum.
Award-winning manufacturer of natural hand-cooked meals for dogs Different Dog will be adding Doggy Doggy Yum Yum to its offering to customers. This will initially be on a business-to-consumer basis via click and collect but with the potential to also offer its retail stockists the brand locally across Shropshire in the future.
Alexandra Thurstan, who founded Different Dog with her husband, Charlie, said:
"We have looking to add a frozen treat to our range of hand-cooked recipes for dogs and Doggy Doggy Yum Yum fitted our criteria in terms of natural ingredients, quality and brand image."
Natural Cornish Pet Shop together with its doggy day care centre will be distributing Doggy Doggy Yum Yum throughout Cornwall and other coastal areas in the South West, supplying cafés, restaurants, pubs and shops in the area as well as selling in its own shop and to online customers via click and collect and delivery locally.
One of Dorset's leading raw food pet stores, Wolfies Raw Pet Supplies, in Poole, will also be stocking the brand.
Jordan Coombe, founder of Natural Cornish Pet, said: "Within a week of launching Doggy Doggy Yum Yum we have already sold several cases and have had enquiries from local cafés wanting to stock the ice cream.
ORGANIC
"As it is lactose free, organic and vegan friendly, we have also had a number of humans also wanting to buy the ice cream for their own consumption! It is already proving to be one of our best sellers."
Made with peanut butter and bananas, this frozen treat uses coconut milk instead of dairy. The ice cream is 100% organic and natural, contains probiotics and has no artificial flavourings, colours or refined sugars.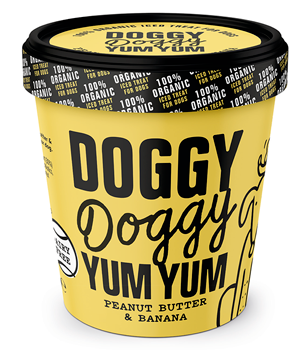 Baboo Gelato was started by husband and wife team, Sam and Annie Hanbury, after they moved to Dorset in 2012 and bought a house with an overflowing garden and orchard. Inspired by their fruit, Annie went to Bologna to train as a professional gelatiere, before setting up a small artisanal manufacturing kitchen.
They opened their first kiosk in West Bay Dorset and were overwhelmed by the response from the community. Local restaurants and pubs then wanted their product, other kiosks wanted to rebrand to carry Baboo Gelato and shops wanted them to make ice cream in tubs.
The company has doubled in size each year ever since and has now added kiosks in Lyme Regis and Weymouth. The passion for the business lies in their use of quality ingredients, sourced locally where possible and not using flavourings, colours or pastes in the manufacture of their ice cream.
Sam Hanbury said: "Although the name Doggy Doggy Yum Yum tells you who the product is for, it is completely human friendly, and is very popular with our human customers. It is vegan as well as organic, and most importantly it is delicious.  Like all dog treats though, this is a frozen treat and should not be treated as a core diet or supplement.
POOCHIE POUND
"We are finding limitless demand during the summer, not just from obvious pet retailers and specialist dog-friendly places, but from ordinary cafés, pubs, restaurants, and tourist destinations.
"It just seems that most savvy people involved in food and drink want some of the poochie pound and we can help with a classy product, well supported with point-of-sale, which includes, stickers, leaflets, posters and an A-frame sign which comes complete with space to put a dog bowl underneath it."
Due to demand and scale, Baboo Gelato currently uses a third party manufacturer in Wales to make Doggy Doggy Yum Yum and this manufacturer has all necessary BRC/Salsa accreditation as well as Soil Association accreditation.
Sam said: "We are currently looking for wholesalers and distributors to help us get this brand out on a national basis.
"We also know the Far East very well, and believe that this product would be incredibly successful in dog-crazy countries like Japan, Hong Kong and Singapore.  We'd love to move into exports.
"We have new flavours ready and waiting when we see demand pick up. Getting distributors is the absolute key.  Depending on how the brand then develops, we plan to separate Doggy Doggy Yum, Yum into a separate company and raise additional capital in order to build it into an international brand."