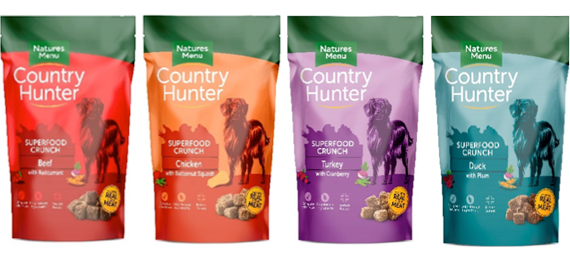 Raw and natural pet food business Natures Menu has launched a new range of baked biscuits – Country Hunter Superfood Crunch – and refreshed the packaging of its existing Country Hunter Superfood Mighty Mixer.
Replacing the current Superfood Crunch range and adopting Natures Menu's new branding, the biscuits are suitable for all dogs, the makers say. Made with fresh cuts of meat, blended with fruits, vegetables and oats, the Country Hunter Superfood Crunch offers a complete meal in a convenient format, complete with an easy-to-read feeding guide on the back of the pouch.
Country Hunter Superfood Crunch Mighty Mixer will also feature the all-new packaging design, to help attract the consumer and boost sales for stockists and retailers.
The new product is available in four varieties including Turkey with Cranberry; Duck with Plum; Chicken with Butternut Squash; and Beef with Redcurrant.
Made with human grade ingredients, the Superfood Crunch range, made at Natures Menu's factory in Norfolk, comes in 1.2kg resealable bags for continued freshness, with an RRP of £9.99.