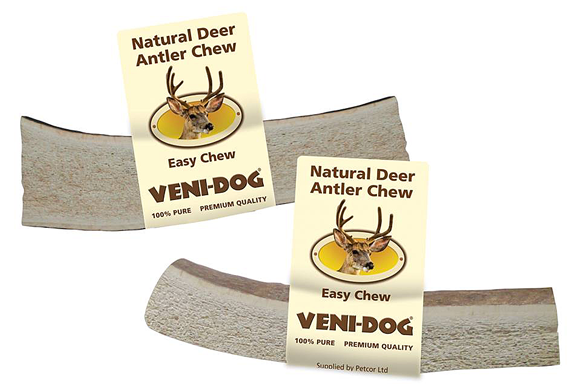 Veni-Dog is for the first time offering deer antler chews – at an introductory offer price – in addition to its existing range of natural dog treats.
Director Tony Davenport said: "Over the years we have had requests from stockists for antler chews, but we felt unable to supply without a reliable source of suitable antlers. We have now found such a supplier and we are offering excellent quality antler chews with an introductory discount of 20%.
"Veni-Dog antler chews are made from the naturally-shed antlers of healthy free-ranging red deer. Premium grade antlers are carefully selected and hand cut to make ideal long-lasting dog treats.
"'Tough' chews are solid and ideal for vigorous chewers, while 'easy' chews are cut lengthways to expose the slightly softer (and tasty) inner part of the antler – suitable for less vigorous chewers.
"Like all Veni-Dog products they are pure, natural and without any additives."