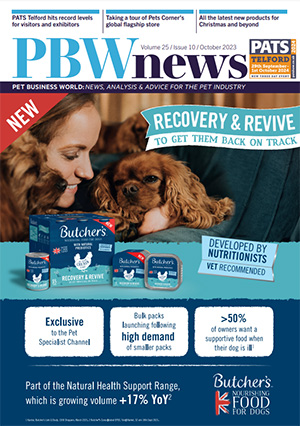 The October 2023 issue is now available online! Packed full of news, features and comments, including:
PATS TO EXPAND: Trade exhibition to be a single, three-day show after record attendance in 2023.
GROWING FAMILY: Pet Family makes additional investment with Astrapet acquisition.
SETTING THE AGENDA: UK Pet Food delivers industry manifesto to Westminster.
CELEBRATING SUCCESS: All the winners from this year's PetQuip Awards.
ALL UNDER ONE ROOF: Some of the highlights from the PATS show in Telford.
10 QUESTIONS: Gordon Thomas of Impact Exhibitions under the spotlight.
A NEW DIMENSION: Pets Corner's new store in Ascot has international visitors in mind.
SHOPPING AROUND: Our mystery shopping team checks out stores in Cwmbran, South Wales.
NEW PRODUCTS AND CHRISTMAS ESSENTIALS: A comprehensive round-up of new products available for the winter season, including a host of festive special editions.
AQUATICS: A round-up of news from the tropical fish and reptile sectors.
WEIRD & WONDERFUL: A selection of unusual and off-the-wall stories from the animal kingdom.
BEHIND THE COUNTER: More tales of the day-to-day life of an independent retailer.