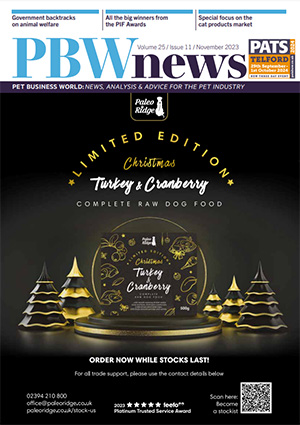 The November 2023 issue is now available online! Packed full of news, features and comments, including:
PARTIAL WELCOME: King's Speech addresses pets in rented accommodation and live exports, but little else for animal lovers.
BIG WINNERS: Retailers and wholesalers celebrate awards from Pet Industry Federation.
5 MINUTES MORE: Pets at Home asks the public to walk their dogs for longer.
HELP FOR OWNERS: UK Pet Food creates online tool to help tackle obesity in pets.
A NIGHT TO REMEMBER: All the winners from this year's PIF Awards.
ASK THE EXPERT: Dr Virginie Gaillard of Royal Canin explains the scientific studies pointing the way to giving puppies and kittens the best start in life.
DYNAMIC DUO: Two friends set up shop in the Kent village of Higham.
SHOPPING AROUND: Our mystery shopping team checks out stores in Northampton.
CAT PRODUCTS SPECIAL: Recent developments and innovations to help retailers make the most of opportunities in the cat category.
AQUATICS: A round-up of news from the tropical fish and reptile sectors.
PRODUCT NEWS: New products and supplier initiatives that have caught our eye this month.
WEIRD & WONDERFUL: A selection of unusual and off-the-wall stories from the animal kingdom.
BEHIND THE COUNTER: More tales of the day-to-day life of an independent retailer.