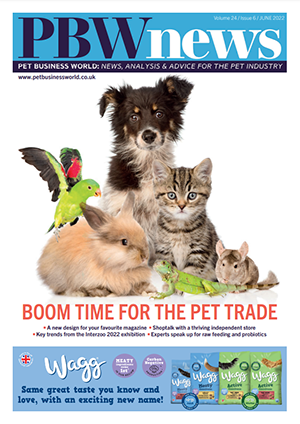 The June 2022 issue is now available online! Packed full of news, features and comments, including:
REVENUE GROWTH FOR PETS AT HOME: Retail giant demonstrates strength of pet care sector
MORE CAPACITY FOR MAJOR DISTRIBUTOR: Pedigree Wholesale moves into larger premises.
OPPORTUNITIES FOR SUITABLY QUALIFIED PERSONS: Vetpol director Caroline Johnson outlines plans to increase the number of SQPs in pet stores.
BIG SHOW IS BACK WITH A BANG: International pet trade fair Interzoo returned to Nuremburg, after a four-year absence due to Covid.
BEING THERE FOR THE LOCAL COMMUNITY: Hannah James of The Pet Shed in Brighton demonstrates the importance of customer service.
MAKING THE CASE FOR PROBIOTICS: Joe Flanagan of Probiotic Group explains why good bacteria are better for pets than no bacteria.