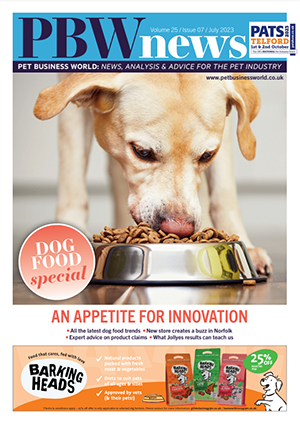 The July 2023 issue is now available online! Packed full of news, features and comments, including:
PERKS OF THE JOB: Jollyes unveils enhanced programme of employee benefits.
LIMELIGHT OPPORTUNITY: Pet Industry Federation Awards open for entries.
RAW FACTS: Nutriment, the latest manufacturer to achieve raw food accreditation.
PALACE COUP: Carina Evans from Podium Pet Products outlines the values that led to a King's Award.
ASK THE EXPERT: Legal advice on how to make product claims, and what statements to avoid.
SHOP TALK: Manufacturer-turned-retailer James Kinge shows us around his Mutt & Co store in Norfolk.
DOG FOOD SPECIAL: An in-depth look at some of the key recent developments in the pet care industry's largest category.
AQUATICS: A round-up of news from the tropical fish sector.
SHOPPING AROUND: Our mystery shopping team checks out stores in Warrington.
PRODUCT NEWS: Some of the best new products on the market to catch our eye this month
WEIRD & WONDERFUL: A selection of unusual and off-the-wall stories from the animal kingdom.
BEHIND THE COUNTER: More tales of the day-to-day life of an independent retailer.