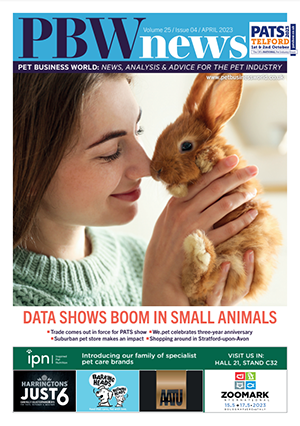 The April 2023 issue is now available online! Packed full of news, features and comments, including:
SMALLER MARKET: New data shows fall in number of households owning a pet, but small animals are on the increase.
NEW FLAGSHIP: Latest Jollyes store sets template for future development.
FOND FAREWELL: Animal welfare organisations pay tribute to the late Paul O'Grady.
NEWS ANALYSIS: New products and pet care innovations filled the floor at last month's PATS show at Sandown Park.
WHOLESALE CHANGE: We.pet eyes expansion after three years of trading.
DREAM JOB: An independent retailer fulfils a lifetime's ambition to own a pet shop.
SHOPPING AROUND: Our mystery shopping team checks out stores in Stratford-upon-Avon.
AQUATICS: A round-up of news from the tropical fish sector.
PRODUCT NEWS: Some of the best new products on the market to catch our eye this month.
WEIRD & WONDERFUL: A selection of unusual and off-the-wall stories from the animal kingdom.
BEHIND THE COUNTER: More tales of the day-to-day life of an independent retailer.