Jenna Tomlins (left) and Lucy Ellis were delighted when Unique Pets won the Independent Retailer Award at the 2017 Pet Industry Federation Awards

Lucy Ellis tells Justine Thompson how a pet retail business borne of a love of animals has developed its bricks-and-mortar shop to include an online offering, in order to survive and thrive during the pandemic
Our business has three owners, Jenna Tomlins, myself Lucy Ellis and Tom Walsh. Jenna has always loved animals. Her passion started with a love of wild birds at a young age and she travelled far and wide to visit various bird reserves around the country with her dad. Bitten by the bug, Jenna got a Saturday job in a pet shop at the age of 13. Since then she always seems to have more pets than money – some things never change!
In 2010, when the opportunity arose to do a wildlife-focused animal care course at St. Tiggywinkles, Jenna grabbed it with both hands and truly loved working with the foxes, badgers and other wildlife. In November 2011, looking for a new challenge, Jenna decided to open her own 'petshop with a difference' – and Unique Pets was born in Winslow, Bucks. We're now heading for our tenth anniversary in December.
As for me, Lucy, I grew up with cats, but it was my poorly rescue pup who introduced me to the world of raw feeding at Unique Pets in 2013 and I've never looked back. With an extensive career in writing and HR, I became a partner in the business in 2015 to support the expansion. In 2018 I took over as manager for the Winslow branch, where I work with my two reactive rescue lurchers, Rory and Darcey.
Tom is Jenna's partner, who retrained as a dog behaviourist in 2015 and joined the business as our dog trainer.
The premises was an estate agent before we moved in, so a pet shop was new to the town. It was easy to think of a name: 'Your Pets are Unique – so are we!' That's our slogan, and hence Unique Pets.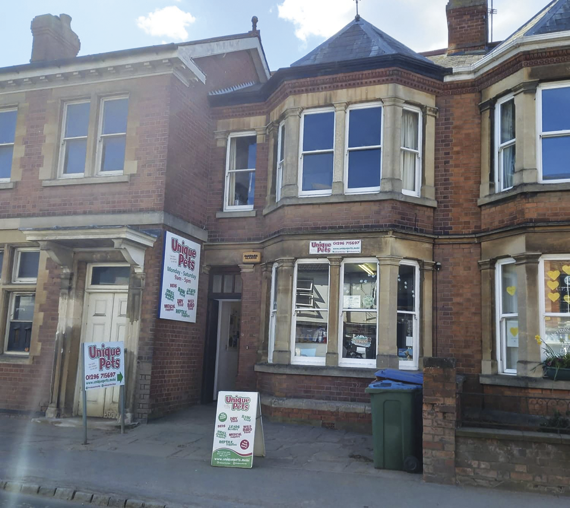 There are a couple of independent pet shops in neighbouring towns, but nothing in Winslow or near our other shop in Whitchurch, Bucks. We specialise in raw feeding and advice, alongside a wide range of natural treats and homeopathic treatments, which gives us the edge over the competition.
We are known for our individually tailored advice and personalised customer service, such as knowing most of our customers by name and their pet's specific dietary requirements. Our growth has predominantly been through word of mouth, so our reputation is our lifeline and is what keeps customers coming back.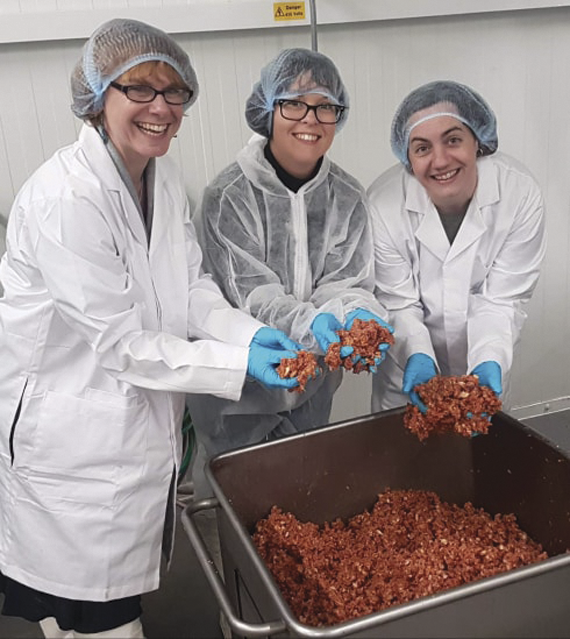 Unique Pets specialises in raw diets and has its own brand
With our raw feeding we have over 10 brands of raw food for cats and dogs. We are so passionate about it that we even created our own brand of raw food – Unique Raw! Most of our recipes are based on the 80/10/10 principle, but we introduced two lower bone content recipes and one higher bone content, as well as a bone-free option and several single protein options. All our recipes were devised from years of talking to our customers and finding out what they wanted and what their dogs needed. We also chose to put 10% heart in all our recipes so that they are also suitable for cats. We are very proud of our own range of food and are looking to expand it this year with some new recipes.
Many of the shop staff have done extensive training in raw feeding and Jenna is undertaking a canine nutrition course.
CORONAVIRUS
When the pandemic hit, we had to close our large shop in Aylesbury and reinvent the business by going online to allow our local customers to place a click-and-collect order or delivery from our warehouse. Having only ever been interested in bricks-and-mortar shops, this was a huge undertaking.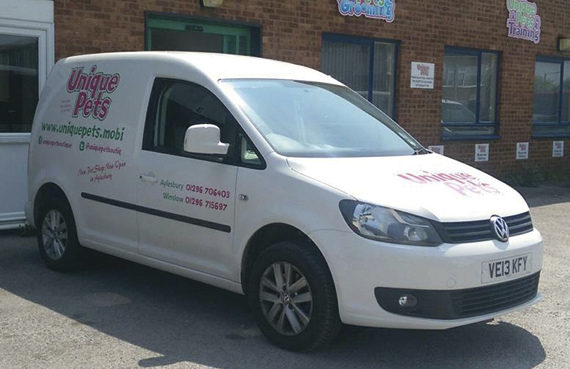 The shop's own vans deliver to local customers
Since we started this online offering for local shoppers in Bucks, Beds and Herts with our two vans, customers have been finding us from all around the country and seem to like the wide range of raw food and natural treats we offer. We organised a courier to deliver a few ad-hoc orders that came through and then realised that we would have to offer national delivery, so we are just launching a next-day nationwide delivery service with a courier partner. Our online shop has undergone many changes in the last year and a half; it's certainly been a steep learning curve!
Before the pandemic we used to hold all sorts of events such as dog shows, Santa paws, holistic pet health talks etc, but coronavirus stopped all that. We would like to start again when restrictions allow.
We are now a small team with many people working alone or with only one other person, which makes social distancing easier. The Winslow shop is small and we operate a 'one customer at a time' policy, while the warehouse shop in Whitchurch is a large airy space that can easily accommodate staff and customers at a safe distance.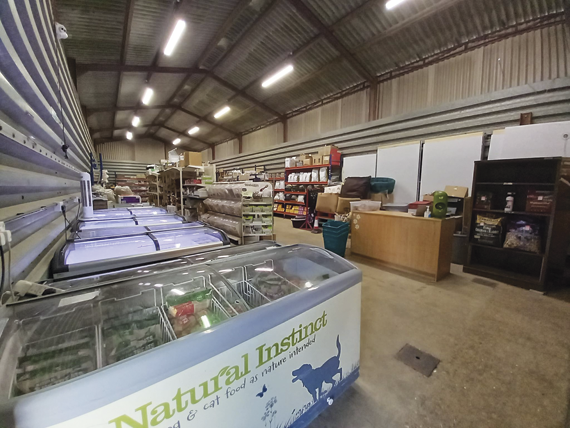 The warehouse shop is spacious with lots of room for the raw freezers
We are a team of 10 looking after the Winslow shop, the warehouse goods inwards, picking and packing customer orders, the warehouse shop, a delivery driver and admin support, we even have a girl doing work experience with us in the Winslow shop.
SOCIAL MEDIA
Social media has always been important to our business, but we are now experiencing a shift in the way we use it. Where we used to promote local shopping and events, we now need to talk to our customers nationwide.
We're very proud of the fact that just six years after opening the doors in Winslow, Unique Pets won the Pet Industry Federation award for Independent Retailer of the Year in 2017! The awards recognise businesses that have attained outstanding achievements throughout the year. A spokeswoman for the federation said: "This year's record number of entries were particularly high-calibre – particularly in the retailer, manufacturer and pet service sectors." Jenna said the award was a team effort of people passionate about pets.
As for the future, our plans are just to continue surviving the pandemic! The last 18 months has made us totally re-evaluate the business and juggle the balance between bricks-and-mortar and online shop, but for us it's all about the customer service and advice.