Paul (right) at the ribbon cutting ceremony at the Malvern store
Just for Pets is a specialist pet retailer that knows how to turn things around, moving from near administration three years ago, to PetQuip UK Pet Retailer of the Year in 2019. Now in 2020, the group is even looking for new sites. Neil Pope caught up with general manager Paul Lewis to find out more
The Just for Pets group of stores has come a long way since it was 'saved from extinction' in 2017. Previously tired-looking stores have been revamped thanks to big investment, and despite the enormous shock of the coronavirus pandemic, there is now a great deal of optimism about the brand's future.
It's all a far cry from the day when news that one of the country's biggest pet retailers faced administration sent shock waves through the industry. How was it possible that the Just for Pets group of stores found itself in such a perilous position and would it be given a lifeline? These were the questions being asked throughout the pet trade as a new owner was urgently being sought for the business.
Thankfully for all concerned, Pedigree Wholesale stepped in to save the day, and give the business the attention and investment it needed.
"Just for Pets was a chain with a great reputation and experienced store teams but the business had sadly struggled to move with the times, slipping close to administration," said general manager Paul Lewis.
The Just for Pets chain was rescued from the brink of collapse and its new owners invested more than £500,000 to give every store an improved look and feel.
The turnaround in fortunes has been strong, with Just for Pets being named UK Pet Retailer of the Year at the PetQuip industry awards last September.
"It was important for the company to re-evaluate everything," said Paul. "Initial research suggested that we had fantastic store teams in place but that the tired décor and product ranges, among other things, needed urgent change to improve customer perception and drive new people into store.
"We've made significant investment into Just for Pets over the past two years by rebranding our stores, improving staff training and changing our product ranges, including new packaging, free deli treats and a specialist raw feeding store. Our customers have really responded well to these changes at their local stores."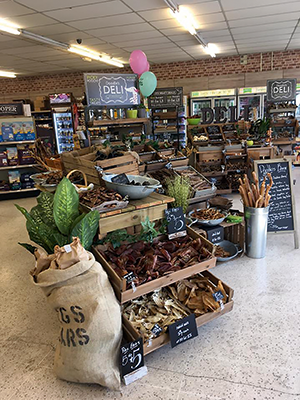 Deli treats available in store
Looking to the future, Paul says it's vital that Just for Pets stays at the forefront of market changes throughout its 16 stores, which are predominantly based in the Midlands.
Employing good people and investing in their training are also crucial to future success.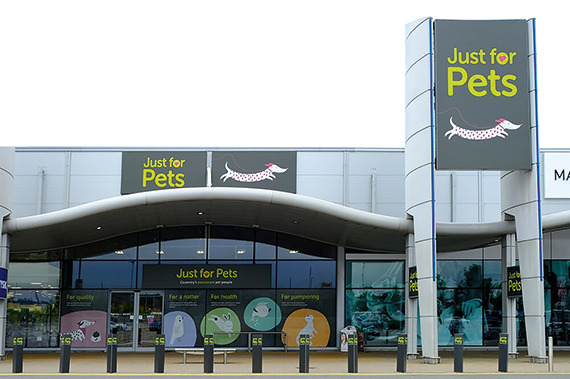 After being saved Just for Pets stores were given a comprehensive facelift
"After buying the company we kept the original store teams in place, and staff retention since then has been high," said Paul.
"We're investing in things like a new training programme with canine behavioural therapist and trainer Hannah Molloy, who starred in Channel 4's Puppy School. Passing on some of her expertise will help develop the knowledge of Just for Pets staff and ultimately benefit our customers.
"I was overjoyed that the hard work and dedication of our store teams was recognised by the PetQuip Awards. They work incredibly hard day in, day out to give everyone who visits Just for Pets the very best customer experience."
The rapid recovery of Just for Pets was temporarily halted by the coronavirus lockdown but Paul and his team remain confident about its future prospects.
"Just when we thought everything was on the up, we were hit by the covid-19 outbreak, which created a lot of uncertainty in the business. But we were delighted to be classified as essential retailers, allowing us to keep the business open.
"Throughout the outbreak we were still able to offer, albeit to a lesser extent, advice around pet health and nutrition, and I think this was appreciated by both regular and new customers. As a result, we hope to keep any new customers within our specialist pet channel post-covid."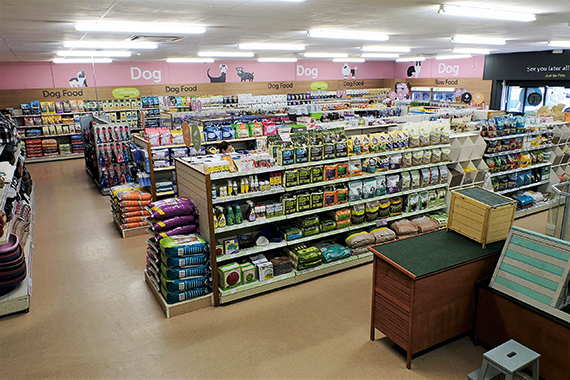 Inside the Just for Pets store at Long Eaton, Nottinghamshire
Following government advice on health and hygiene measures, the retailer went all out to keep everyone safe while providing the best possible in-store experience. Staff were supplied with PPE and new cleaning equipment, while antibacterial stations and clear signage were positioned around the stores for the benefit of customers.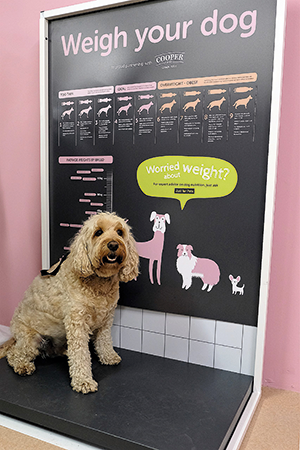 Customers can weigh their dogs in Just for Pets stores
But one thing that the lockdown didn't halt was the desire to grow the Just for Pets portfolio stores and, as reported by pbwnews last month, the company is on the search for at least two new outlets this year.
"We have turned this business around and we want to keep moving forwards," said Paul.  "Of course, we will continue to invest in our existing estate but we know there is a demand for the Just for Pets style of retailing outside of our current geographical locations. If the right stores come along, then they would be considered.
"We believe there are some exciting times ahead. But, of course, we recognise we still have a long way to go and more improvements to make across the company."