The owner of Jus4paws Pet Supplies in North Wales had never dreamed of running a pet shop. As an animal lover all her life, Justine Darvill was happy doing cleaning jobs to support her family, pets and rescue animals when a turn of events caused a dramatic rethink, as she explained to Justine Thompson
When Justine Darvill's cleaning job came to an end she was looking around for something else to do to help support herself, her family and her pet and rescue animals.
Justine, 50, knew she still wanted to work for herself, but beyond that the way forward was unclear.
That's when she took a walk around Ruthin town centre in Denbighshire, just 15 minutes from her Conwy home, and spotted a small shop for rent.
"I don't know what came over me," said Justine. "I've never done anything like it before. I went in and talked to the landlord, went home and spoke to my husband Neil and then, within a week, it was done – we had a pet shop!"
That was four years ago when the sudden career change took the family by surprise but they haven't looked back since, even with the rigours of the pandemic and a premises move to contend with.
Justine poured her savings into the project, determined that at no stage would she owe any money, and started off slowly, stocking products she knew she personally would use following years of working with and rescuing animals.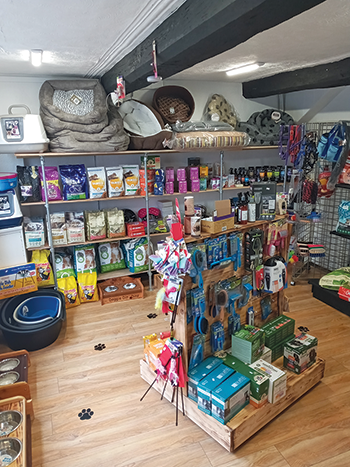 There are always plenty of items to browse in Justine's shop, all hand-picked using her personal knowledge of pets and animals
"Before we opened the shop I spent a couple of late nights researching what I wanted. Then I built it up bit by bit, putting money back into the business so that it could continue to grow," she explained.
Ruthin and the area around it is a draw for tourists and the little shop – Jus4paws Pet Supplies – soon attracted a following, with both locals and visitors coming through the doors thanks in part to a strong social media presence. The shop itself was slightly off the beaten track down a side alley and customers often described it as 'the pet cave', so it was no great surprise that after a couple of years Justine began to consider an expansion.
What was more of a surprise, when it came, was the timing of the move – August 2020 – which turned out to be bang in the middle of the coronavirus pandemic!
"Well it wasn't that surprising when you know why," explained Justine. "When covid came along and we had to look at social distancing and increasing home deliveries etc, it was just a bit of a nightmare from our little shop; added to which we could only have one person in at a time once the restrictions were in place.
"So when I saw the new premises in St Peter's Square come up for rent in a more prominent location in the town, and at least double the size, I knew it was the right thing to do."
EXPANSION PLANS
Once again, and for the second time only in her life, Justine 'winged it', making her decision almost overnight and kitting out the new place with social distancing as well as design principles in mind.
"We used the burnt-wood effect for the walls and staging of our dog areas, and dog paw-prints on the floor to mark the socially distanced route around the shop. It was fun to do but was also practical and has resulted in a light and airy place where people can easily see what's available," she said.
Jus4paws stocks a remarkable array of items for every conceivable pet animal – from hamsters to horses – so it's a wonder Justine was ever able to manage with the smaller premises. Now the range of personally selected products is arranged into animal-specific areas to make things easier to find, whether that's the exclusive Rukka dog clothing or some of the local produce, such as locally grown meadow hay for the small furries, which all help to entice the customers in.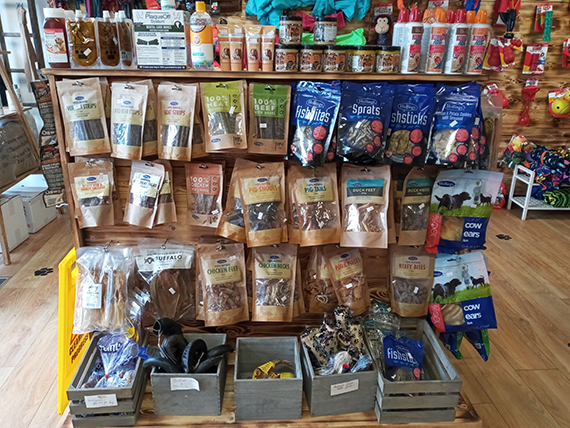 A vegetarian herself for the past 24 years, Justine says she ensures there is something for all animals and owners, always with the animals' welfare in mind. To this end she stocks everything from natural raw meaty treats such as chicken feet to vegetarian and even vegan food: "We have to mark ourselves out as different and I wouldn't stock anything I wouldn't give to my own animals," she explained.
The shop also stocks a number of bespoke animal-themed gifts some, such as bird boxes and wooden dog bowl holders, come from local craftsmen, and others from ethical suppliers like Wraptious, which supports artists and plants trees in return for sales.
COMMUNITY SPIRIT
Before the pandemic struck, Jus4paws held a number of events working with the local animal community and charities, such as tack marking and a bird of pray day. With lockdown measures in place all these have been put on hold for now, and Justine was initially fearful about keeping a steady footfall through the shop, especially with fewer tourists able to visit the town.
She needn't have worried however, as the locals soon rallied round: "Ruthin is a lovely little place with lots of small, independent shops. It's a great community and everyone always helps each other. We recently had floods at the other end of town and people all pitched in to donate furniture and whatever they could. We donated money to the Ruthin flood fund to help people replace what they lost.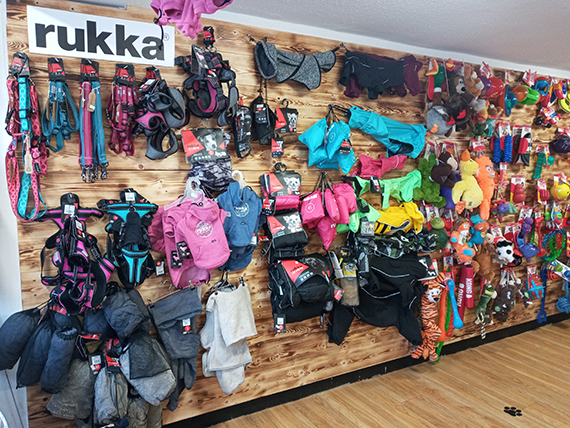 "Well, it goes both ways and people have helped us too. We've had plenty of custom during the pandemic and, if we need a hand with anything, there is always someone to help out, whether it's with the website or with my Welsh…which I have been trying to learn for a few years now!"
Part of the shop's success is indeed down to that personal touch. Justine says she is always there for pets and their owners, taking the time to listen to them and their needs. And if someone is having issues she always likes to help out, although she finds that during lockdown the most valuable things she can offer is a listening ear.
"We believe very much in getting to know our customers and in the personal touch. Often at the moment what our customers like most of all is a good old chat!
"And of course we love to see all the animals in the shop – we even have a miniature pony called Hero who is a regular customer here!"
Jus4paws is a family-run business and Justine is the first to acknowledge that she couldn't have done it without the on-going support of family and friends.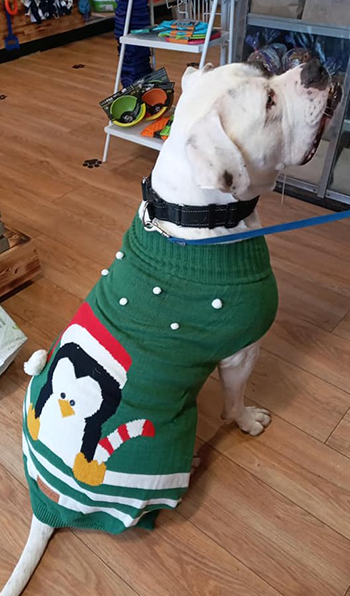 As for the future, like so many of us Justine is keen to see the back of the pandemic and to carry on developing the shop and caring for her numerous pets and rescue animals at home, including 18 ponies, four sheep and numerous cats, dogs, ducks, chickens and rabbits. It's no wonder that she understands so well what products work for animals of all kinds and what doesn't.
"We never have a holiday and I'm up at 5am every day to do all the animals before work. But I just love what I do, I love the shop and I love the town – why would I want to be anywhere else?" she asks. For further information email [email protected]