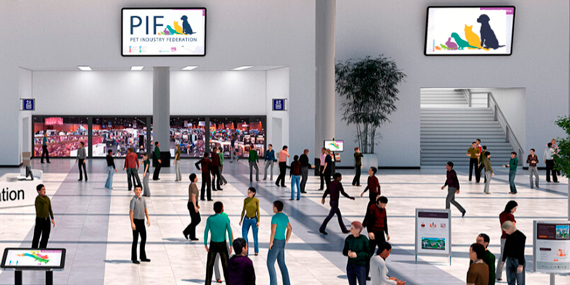 Pet retailers who would like to kick-start their business as lockdown eases are being invited to register for Virtual Petindex.
The new pet trade show on June 14-15 will bring together UK and overseas exhibitors on an online platform. The event has been organised by the Pet Industry Federation, the UK trade association for pet businesses.
With the cancellation of this year's Interzoo and other overseas trade shows, Virtual Petindex offers an opportunity for retailers to boost their business as the coronavirus restrictions ease, source new products, speak to exhibitors and regain business opportunities lost during the restrictions.
Nigel Baker, PIF CEO, said: "With coronavirus affecting our way of life for the foreseeable future, Virtual Petindex will provide an invaluable way for retailers to visit a trade show and get all the benefits of visiting a traditional show, including sourcing new products, talking directly to customers and suppliers, obtaining discounts and fantastic learning opportunities; without having to travel anywhere or pay for any hotel accommodation."
On the 'live' event days, retailers will be able to access:
* Trade stands from the UK and overseas
* More than 20 webinars and presentations aimed at pet businesses
* New products
* Product promotions, discounts and online ordering
* Information that can be downloaded and taken away in a 'virtual bag'.
Speakers signed up to deliver webinars include US speakers Joe Watson, MD of Petland, and Bob Phibbs, a retail expert and advisor. There will also be talks from Wanda McCormick on pet nutrition and Labelling; Sam Gaines on 'How Science can help us understand the World of our Best Friend' and Caroline Johnson on the 'Three Must-Dos for your Pet Business'.
Although the trade show platform is online it is easy to access, with no software to download. Once visitors have registered, they will be sent a password to log in on the live days from their laptop, tablet or smartphone.
Registration and attendance at the show are free. Full event information, including registration, is available at vpetindex.vfairs.com
You can also contact [email protected], or telephone +44 (0)1234 224507 for more details.