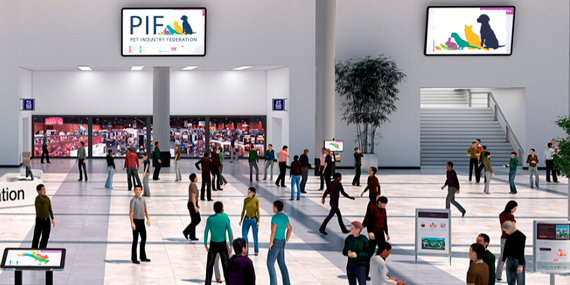 Virtual Petindex, the UK pet industry's first virtual trade show, is now open for registrations and stand bookings.
With live days scheduled for June 14-15, organiser the Pet Industry Federation says the show will provide 'a unique platform for exhibitors to reach a virtual audience without all the associated costs of a traditional trade show'.
The event will engage pet industry professionals from all over the world in one virtual venue and will enable exhibitors to talk to trade visitors through live interaction tools, which can be accessed from any device. In addition, there are more than 20 webinars scheduled over the two days, designed to help visitors to gain new skills and knowledge to strengthen their business.
Nigel Baker, PIF CEO, said: "In the face of huge disruption to the pet industry caused by the covid-19 restrictions and the cancellation of a number of trade shows, including our own Petindex, a virtual trade show will provide a lifeline for businesses in our industry to connect with other businesses, both in the UK and overseas.
"It is a cost-effective and low risk way to source new products, sell product and services and learn new skills, something which is more vital now than ever before."
Exhibitors can expect to have fully-branded virtual trade stand that can feature videos and product images; documents and presentations; show offers; web links and live chat features. Orders can be taken directly from visitors at the show.
Trade visitors can access:
* Free registration
* Webinars and presentations from industry experts
* New products
* Product promotions and discounts
* Online ordering
* Real-time communication with exhibitors.
Virtual Petindex will remain open for 30 days after the live days so buyers and exhibitors can still connect after the trade show.
Nigel continued: "We are excited about the opportunities Virtual Petindex will bring, and look forward to engaging with as many pet businesses and professionals from the UK and abroad to give our industry a much-needed boost after the unprecedented challenges brought on by the coronavirus pandemic."
To find out more, to book a stand and to register to attend Virtual Petindex, visit www.petindexshow.com