With only two days to go until the launch of Virtual Petindex, organiser the Pet Industry Federation is looking forward to welcoming visitors and exhibitors from all over the world to shop, learn and connect at the UK's virtual pet trade show.
More than 2,000 visitors have registered to attend the event on Sunday and Monday, October 11- 12 which, in the continued absence of traditional trade shows, provides businesses with an opportunity to 'grow, discover new products, learn and network'.
Visitors can expect to find:
*. More than 60 pet trade exhibitors from the UK and overseas
*. Six New Product Stands with more than 20 products new to the pet market
*. Show offers and discounts
*. A virtual show 'bag' to gather information you want to browse in your own time.
Virtual Petindex also provides one of the strongest line-ups of pet business-related webinars you are ever likely to see in the UK, PIF says – 30 webinars with relevant content from speakers who are experts in their field, delivering original content for Virtual Petindex visitors. Some webinars are delivered 'live' and can only be viewed at the time they are broadcast while others are on-demand and can be viewed at anytime after their release over the weekend.
There are also two live panel discussions on key topics for our industry, which all visitors are invited to join and participate in:
* Sunday October 11 at 2pm:  'Does Covid present opportunities for the pet industry?'
* Monday October 12 at 12pm 'Pets & the Ageing Population'
Full details of all the exhibitors, webinar schedules and speakers, as well as visitor registration, can be found at vpi.vfairs.com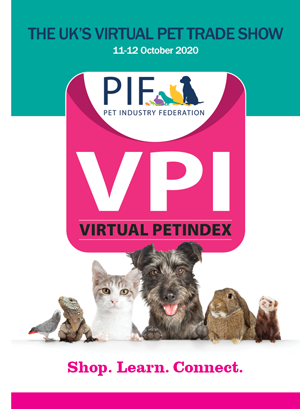 A Show Guide has also been produced to accompany the event, packed full of additional information to help visitors plan their visit. To access it, simply visit CLICK HERE