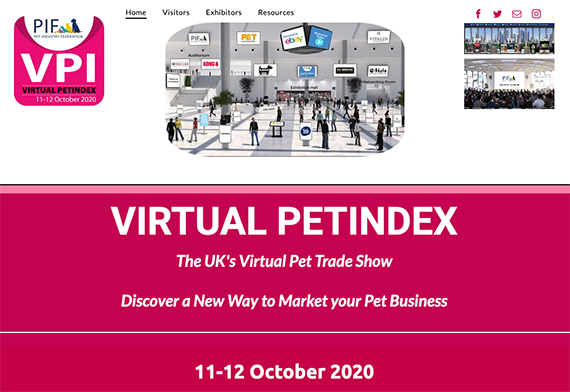 There is still time for exhibitors to sign up for the UK's virtual pet trade show Virtual Petindex (VPI) next month, say organisers the Pet Industry Federation.
The show takes place online on October 11-12 and remains 'open' to visitors until October 26.
Nigel Baker, PIF's chief executive, said: "Being virtual means that there is no expensive or time-consuming stand build, but with a bit of research and planning on your design, your stand can do all the talking during the event as your 'silent salesperson'. They are really easy to set up and PIF's event team can help you every step of the way."
October's event will introduce a new product stand for companies wishing to showcase their new products, and a limit of 40 trade stands per exhibition hall to create greater exposure for exhibitors' brands. A unique feature of VPI is the detailed breakdown of visitors who have visited a stand and what their areas of interest are. Every exhibitor receives this as part of the stand package.
Aside from the trade stands, Virtual Petindex will feature a packed webinar schedule on both days of the show with high-quality seminars on a range of business and animal welfare related topics from renowned speakers. The list of speakers and webinars will be revealed in the coming days.
Nigel continued: "And of course, there is no travel involved – all you and your team need is a PC, tablet or mobile phone to operate your stand, and it's the same for visitors. The stands really do offer excellent value for money. And in these times, when the industry is unsure whether they want to travel, VPI fills a gap of bringing the pet trade and visitors together."
There's a wealth of information about the event, including free short webinars about how to exhibit at Virtual Petindex, the 'dos and don'ts' of exhibiting at a virtual show and how to attract customers to your stand, at www.petindexshow.com
If you would like to exhibit, please email [email protected]; call 01234 224507 or visit the website to register your interest.
The show is also free to visitors. To find out more about the VPI and to register to attend, visit www.petindexshow.com