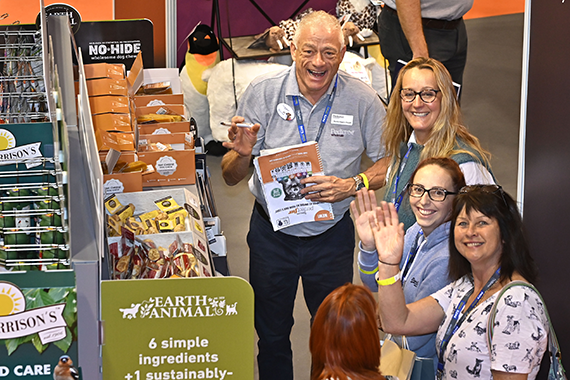 Suppliers and retailers have agreed that the return of the PATS Telford exhibition has given the UK pet industry a much-needed lift.
The two-day event ended on Monday with superlatives being used to describe the outcome. Fantastic, brilliant, excellent, best-ever and memorable were some of the comments being made as the doors closed.
PATS Telford took place with more exhibitors than ever before and more than 190 companies showcasing hundreds of new products.
"I love PATS because it delivers quality visitors and this year it has delivered in style," said Suzanne Rothman, owner of Pet Munchies.
Naturaw director Chris Broadbent was also impressed with the quality of visitors to his stand and the interest shown in sustainable products. "Our Louis & Ada Natural Treats are definitely on trend for being sustainable as they are natural, made from British meat, natural and the packaging is plastic-free."
Martyn Barklett-Judge, managing director of Pet Remedy, said: "Our stand has been consistently busy throughout the two days of the show and we've seen the key buying decision-makers."
BUSIEST
And David Alton, a director at Little BigPaw, added: "It has been our busiest show ever and we have some great meetings with new customers as well as exisiting ones."
A high number of companies exhibiting at PATS Telford for the first time agreed the show had fulfilled all their expectations.
The mood was summed up by Tailor-Grace's managing director, Tracey-Louise Voss, who said: "PATS has proved to be an excellent platform for our brand, and a lot of interest was shown in Huskaloo Coconut Cat Litter after it won a New Product Award."
Conor Heery, marketing manager of Dublin-based DoggyRade, said: "We're pleased we decided to exhibit at PATS Telford for the first time because we have achieved our goal of gaining good exposure for the brand."
Visiting retailers were happy with the return of an in-person exhibition and the chance to speak to suppliers face to face.
IMPORTANT
Belinda Lunt, manager of Petcetera, in Whitchurch, Shropshire, said: "This show is an important date in the pet industry calendar because it's THE place for retailers to see all the new innovations in one building. I'm glad it's back."
Susan King visited PATS to find stock for her new Battersea Pet Store, which she hopes to open in the next six months. "We are focusing on natural and sustainable products and we've been spoiled for choice at PATS."
Julie Sandercock, owner of Bodle Brothers, of Burgess Hill, Sussex, added: "We walked into the exhibition hall just after the doors were opened and there was already a buzz about the place. The stands all looked fantastic and it was great to see everyone again."
Hannah Cawthorne, a buyer at Fatface, visited the show to get ideas for items to stock in the chain's retail outlets after successfully introducing a range of dog beds made by Danish Design. "This show is ideal for me," she said. "Being able to see items displayed on the showcase is perfect for catching the eye and helping to decide on potential products to stock."
Date for your diary: PATS Sandown, Esher, Surrey, March 27-28, 2022.