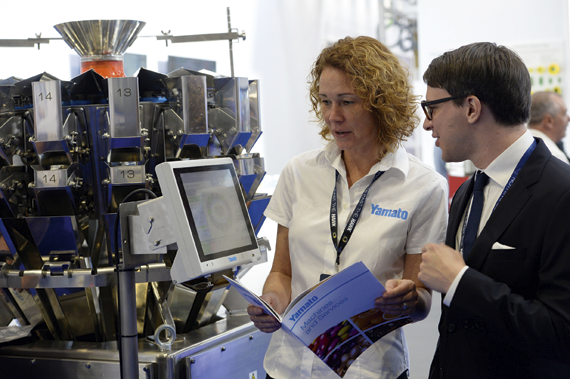 PPMA Total Show 2019 opens its doors at the NEC, Birmingham from October 1-3 for what will promises to be the most comprehensive production line event in the UK for processing and packaging machinery.
Over the three days, visitors will have access to 450 exhibitors and about 2,500 brands, showcasing the latest innovations in smart manufacturing, processing equipment and packaging solutions for a range of sectors – including pet care.
Leading players exhibiting at PPMA Total Show 2019 include Hewlett Packard, KUKA, Mettler Toledo, Cama, Bizerba, Ishida, Ulma, Schneider Electric, Barry-Wehmiller, Bosch Packaging and Pester – to name a few.
This gathering of industry-leading manufacturers will deliver the latest solutions in processing equipment and packaging machinery, with real-time demonstrations of advanced technologies and innovative solutions. Other areas of interest include artificial intelligence and the integration of vision equipment and robotics into existing production lines.
EXPERTISE
The Enterprise Zone at PPMA Total Show 2019 will offer visitors a focal point for knowledge and expertise to educate and inform visitors with a free-to-attend, issues-led conference programme designed to support business growth and development.
Featuring experts from IKEA, DS Smith, The British Plastics Federation and The Sunday Times, this year's conference programme will focus on some of the key issues facing modern manufacturing, including Brexit, serialisation, artificial intelligence, plastic packaging, food waste, and sustainability and the circular economy. Case studies and presentations will also give visitors real examples of best practice manufacturing and excellence in processing and packaging production, aiming to motivate and inspire visitors to improve their businesses.
Richard Little, Show Director for the PPMA Group of Associations, said: "This year's PPMA Total Show is topical for a number of reasons.  Not only will it be the biggest PPMA show in the association's history, it's only taking place in the same month that the UK is scheduled to leave the European Union.  As a result, it's encouraging more businesses to think laterally about investing in new machinery and equipment to ensure they maintain a competitive edge.
DEMONSTRATIONS
"New technology, working machinery and live demonstrations are always a big draw for visitors to our shows, and this year's Total Show will be no exception.  Pre-registration is again up year-on-year, which proves that, despite the global economic slowdown, demand remains high for PPMA shows and there's a real appetite for companies wanting to exhibit to grow their customer-base.
"The environmental agenda is also continuing to push the boundaries of our industry; particularly waste reduction and the use of plastic, so sustainability and waste reduction are topical themes for PPMA Total Show 2019…
"It's an important time for the processing and packaging industry. We're entering a phase where political changes are set to impact our business dealings internationally.  I'm very confident, though, that this year's PPMA Total Show will again provide visitors and exhibitors alike with new ideas, solutions and networking opportunities to help drive their businesses forward."
The PPMA Group Industry Awards 2019 will be held at the National Conference Centre in Birmingham on the evening of the first day of the Show.
To register for your free visitor badge, visit the PPMA Total Show website at: https://www.ppmatotalshow.co.uk/