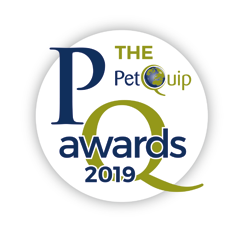 PATS, the UK's biggest pet industry exhibition, is again backing the PetQuip Awards, which will be presented at a gala dinner and party on the first evening of PATS Telford (Sunday, September 22).
The PetQuip Awards, now in their seventh year, have consistently delivered a networking evening event for the whole industry where suppliers and retailers can mix, have fun and celebrate the industry's many successes.
"Over the past few years we have worked closely with PetQuip to deliver a strong international presence at our shows," said organiser Gordon Thomas, "and have been working even harder this year to make sure PATS Telford and the PetQuip Awards are the best in the business.
"We are extremely pleased that the awards will again be taking place after the first day of PATS Telford and are proud to back such a prestigious event.
"There are some exciting new categories in the PetQuip Awards, which can only add more prestige to this fabulous event."
AWARDS
The PATS Telford New Product Awards, sponsored by pbwnews (petbusinessworld.co.uk), will also be presented during the PetQuip gala awards dinner
Amanda Sizer Barrett, director general of PetQuip, said: "We applaud the PATS organisers for putting on a professional, successful exhibition at Telford. So it's great for the PetQuip team to work together with the PATS team to support this vibrant industry."
And Pat Flynn, PetQuip's trade association manager, added: "The PetQuip Awards have grown to such a degree that companies can't wait to enter – each year we receive calls before officially launching the awards at PATS Sandown.
"It's an event where retailers from both the UK and internationally, groomers and suppliers all come together to network, see the latest innovative pet products, and celebrate the innovations on the first evening of the show at the PetQuip Awards dinner and party. We appreciate the huge support that PATS gives us."
PetQuip has introduced two additional categories to the Awards for 2019. A category for small animals has been added to the Products section and there is also a new Merchandising category, which is open to suppliers, retailers or collaborations between suppliers and retailers.
"With PATS Telford set to be another 'sell-out' event – more than 200 international and UK companies have already confirmed they will be exhibiting – and the PetQuip Awards bigger than ever before, the UK's national pet industry exhibition is the place to be this Autumn. Put September 22-23 in your diary now.
A full and up-to-date list of exhibitors is available on the website www.patshow.co.uk together with information on how to reach the venue and regularly updated show news. The website also features a PetQuip Awards ticket form.