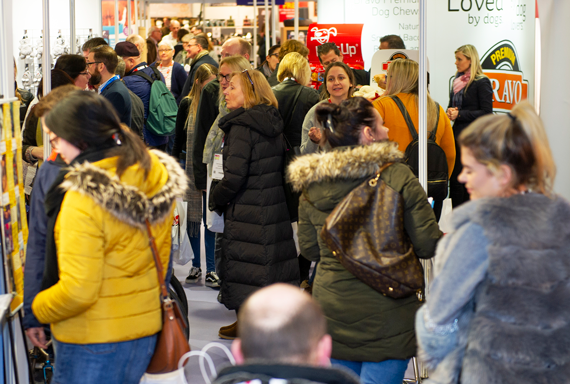 PATS Sandown continues to attract new exhibitors, and the 2020 show is no exception.
First-timers to PATS Sandown include Albion Country Bowl, Aquadip, Berts Bows, COCO JOJO & DOOG, Dobbyman, Earth Animal Ventures, Furmagic, Goodchaps, Hot Dog Pet Products, Mackle Pet Foods, N Smith, Rocketo, Ruff and Tumble, Scrumbles and We.pet.
Kevin Dover, of Albion Country Bowl, said: "After several successful shows at Telford, Albion has decided to add the Sandown event to its shows for 2020.
"This will be a chance to showcase a new range of meat products and treats that are to be launched. We feel that PATS is the best place to showcase products both new and old for UK-based and overseas visitors alike.
"We look forward to making this event a regular thing in our show calendar."
Organiser Annie Foord said: "It's great to see so many companies exhibiting at PATS Sandown for the first time. Together with our valued regular exhibitors, they are sure to make the two-day show one to remember."
PATS Sandown is the place for pet retailers to see a host of new and international exhibitors as well as the industry's big-name brands, all of which will be showcasing their 2020 launches over two days on February 9-10 next year.
It will be the second time the event has taken place on a Sunday and Monday in February, following a highly successful move to the earlier date in 2019, and visitors will be greeted by more than 150 brands at the Sandown Park event in Surrey.
Joey Abrahams of Aquadip said:  "We offer a wide range of products from live and frozen fish food to aquatic plants and water treatments.
"Recently we have introduced an option to start 'Your Own Brand' aquatic, pond and koi fish food. We think PATS is the perfect place for us to introduce our high-quality products to like-minded people in the pet and aquatics industry."
Meanwhile, Ian Green of COCO JOJO & DOOG said: "We are delighted to be exhibiting at PATS Sandown for the first time. Our pet business has grown rapidly over the past three years and we are now in a very strong position to offer great prices and new product to the trade.
"We had an amazing PATS Telford show and met loads of new customers. We hope to see them again at PATS Sandown and offer our very popular show discount."
Daniel Vander, of We.pet, said: "It's not often a new wholesaler launches into the UK pet food market but that's exactly what's going to be happening at PATS Sandown with the launch of We.pet Independent Pet Wholesale.
"We.pet are delighted to have the chance to launch at PATS Sandown where we will get fantastic exposure to thousands of potential customers from the independent channel all under one roof – our precise target market."
Visitors to the show will be able to see an unrivalled array of new-launch products, watch demonstrations from the country's leading dog groomers and listen to talks from prominent industry figures.
For the latest information on the show and a full list of exhibitors, visit www.patshow.co.uk where visitors can also register for free entry.