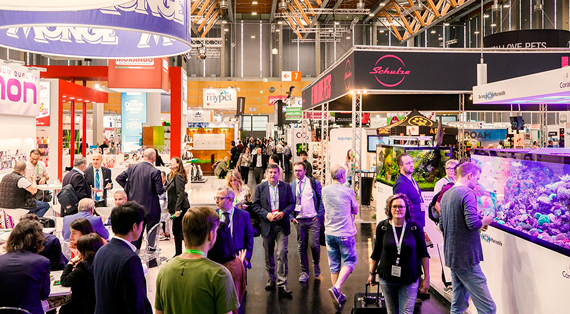 Interzoo has been rescheduled to take place in June 2021, with Zoomark International moving to 2022 to accommodate the change, it has been announced.
Interzoo was to have taken place in just a few weeks time, on May 19-22, with Zoomark scheduled for May 10-13 2021.
Given the severity of the global crisis and in the hope of finding a solution that serves the interest of the industry, WZF (organiser of Interzoo), and BolognaFiere (organiser of Zoomark) have rescheduled each of their events to the following year. Both companies see this as an approach towards finding a minimally invasive solution.
Interzoo will now take place in Nuremburg, Germany, on June 1-4 2021, and Zoomark in Bologna, Italy, on May 9-12 2022.
Dr Rowena Arzt, a director of WXZF, said: "After a global crisis a global trade fair is needed to provide the industry with a positive impulse. Trade shows are a crucial instrument in enhancing the rehabilitation process in the aftermath of a crisis and act as catalysts for industries and national economies."
Norbert Holthenrich, president of Interzoo sponsors the German Pet Trade and Industry Association, added: "In the aftermath of a crisis such as the one we are currently facing, it is our obligation as association and trade fair organiser to support the industry in recovering economically. Our exhibitors state that a biennial rhythm for an event with the magnitude of Interzoo is simply ideal and should therefore be maintained. We are optimistic that postponing both trade fairs by one year holds solid benefits for the industry at large."
TRADE FAIR CALENDAR

Zoomark organiser Antonio Bruzzone, of BolognaFiere, admitted that due to the covid-19 emergency, the calendar of international trade fairs had been substantially altered.
"Today more than ever, fair organisers are striving to offer the business world new tools and increasingly incisive support for kick-starting business, working in close collaboration with institutions, companies and trade associations.
"Our know-how as trade fair organiser with consolidated international experience enables us to offer the business community for the pet sector, which will be in Bologna in 2022 for Zoomark International, an extensive vision of the very best of advanced international production, with an increasing number of professional operators from the world's fastest growing markets, where we have been promoting the event for time.
"We are convinced that the emergency we are currently facing can provide new stimuli for business and that over the next two years the economy will re-stabilize, rewarding, in particular, the most innovative companies."